Bitcoin (BTC) is currently on a roll as price just hit another record high for the year at around 18,400 which may be driven by institutions this time -  one of BTC's biggest swing since 2017. Today, price took a 6% pullback creating an immediate support around 17,270. Immediate levels in the daily is looking good with immediate support around 17,200 - 16,500, while resistance is at 18,400. Zooming in the 4H chart, we can expect a range between 18,400 - 17,200. The current structure shows high probability of price hitting the major resistance around 20k.
Global market cap is at $500B, while BTC's market cap is at $334B.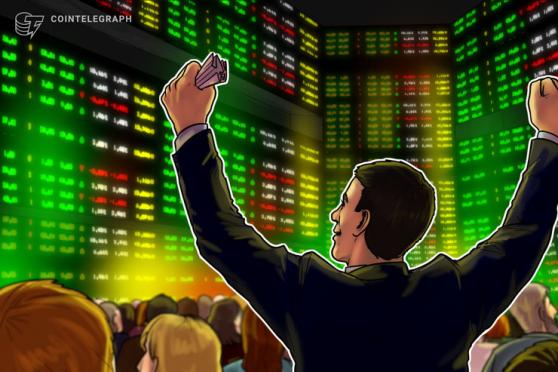 Institutions may be one of the key drivers of the current surge in price of BTC as BTC and crypto ETPs (exchange traded products) have increased in volume this month. CryptoCompare's report has revealed that institutions have been a driver of momentum. According to the report, the Digital Asset Management Review found that aggregate BTC ETP volumes saw an increase of 53% over the past 30 days hitting average daily volumes around $173.5 million from $113 million in October. ETPs are types of securities that track underlying financial assets.
Ethereum's top 10 most-popular decentralized applications, or DApps, have surpassed one million active users over the last month according to analytics platform DappRadar. The increased activity partially stems from the growing interest in decentralized finance, or DeFi, as DeFi users grew 11% in the first 11 days of November. Six of the top 10 DApps describe themselves as providing "DeFi and exchange" services, and combine for more than $21 billion in trading volume over the last month.
The top three DApps - Crypto.com's DeFi Swap, Uniswap, and Compound - account for 930K of the users between them. None of the remaining seven DApps had more than 30,000 users across the month. The rest of the top ten include non-fungible token (NFT) marketplace Rarible, NFT-powered game Axie Infinity, Forsage, HEX, WBTC, Synthetix, and dYdX.
Hiromi Yamaoka, former head of the payment and settlement systems department at the Bank of Japan, said that Japan will need several years before it can issue a central bank digital currency (CBDC). Yamaoka explained that the BoJ is concerned about a CBDC potentially triggering massive outflows from private bank deposits, and that there is "no point issuing a CBDC if it isn't used widely." The BoJ could consider putting limits on CBDC holdings by a single entity to mitigate the risks of money rushing out of private deposits, but could also trigger conversion fluctuations from a CBDC to other forms of money, Yamaoka suggested.
Yamaoka's remarks come shortly after the BoJ published a report on CBDCs, announcing plans to run the first digital yen pilots in 2021. The BoJ and the private sector are reportedly working together to make digital settlements more convenient.
This Daily Dose was brought to you by SCI News Channel.