Bitcoin (BTC) remains steady above 11,400 as there was no significant rejection/move during the weekends. Currently, price structure remains healthy with price trailing above the 10 EMA in the daily. Immediate levels remain intact with immediate resistance around 11,600 - 11,700 and immediate support stays at around 11,200. Meanwhile, structure in the 4H is showing a decent price contraction and trendline resistance. A good close above 11,600 could trigger a potential breakout to retest key resistance levels (11,700 - 12,000), while a failure to hold above the 10 EMA is a possible invalidation.
Global market cap is at $359B, while BTC's market cap is at $212B.
Room 77, the first ever brick-and-mortar business to accept Bitcoin (BTC) as payment, has permanently closed. The German bar and restaurant located in the Kreuzberg district of Berlin, Germany reportedly accepted its first crypto payment in May 2011 for a pint of beer. Joerg Platzer, founder of Room 77, posted a goodbye message on Reddit saying "thanks again for all the fish and the generous tips," and that "it is clear by now that nobody will stop Bitcoin anymore. Sound money on a global scale will soon make it unfeasible to wage wars and it will create economic equality amongst mankind."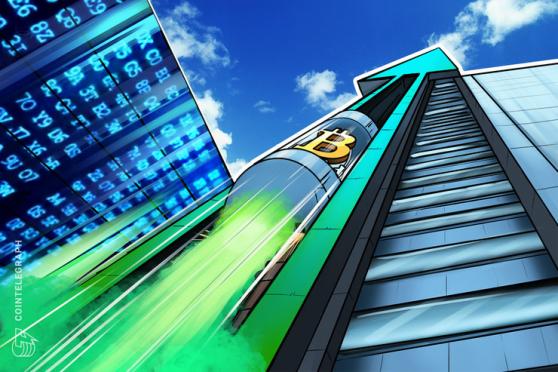 Bakkt, the digital asset payment platform and derivatives exchange geared towards institutions and operated by the Intercontinental Exchange (ICE), saw another record-high month from Sept. 20 to Oct. 20. The past month saw Bakkt's volume rise to over 400 BTC futures contracts, a 14% jump from September. Strong institutional demand is also apparent by looking at the volumes of LMAX Digital and CME. LMAX Digital primarily facilitates trades for institutions, and processed $135.6 million worth of BTC in the last 24 hours. The CME Bitcoin futures market's open interest also rose from $345 million to $561 million since Oct. 2.
Bitcoin exchange reserves are reportedly dropping - which could be a potential sign that sellers are drying up. According to data from on-chain analytics provider Glassnode, there has been a decline on exchange reserves from 2,950,000 BTC to 2,700,000 BTC since the flash crash in March. This 250,000 BTC decline translates to $2.85 billion, which could be caused by decline in sellers and/or lower trust in exchanges. In addition, institutions acquiring BTC are also on the rise as retail investors continue to hold their BTC at current price levels. Michael van de Poppe, full-time trader at the Amsterdam Stock Exchange shared the same sentiments saying "To be honest, more and more $BTC going from exchanges towards cold wallet storage. Big listed companies allocating cash reserves to $BTC. Is incredibly bullish."
This Daily Dose was brought to you by SCI News Channel.