In this week's EXPOSED!, I look at the inadequate nature of the world's responce to one of the most worrying modern curses...electronic waste!
"At first we dealt with record players, radios, VCRs and black-and-white TVs. Later on CD and DVD players followed. Finally computers arrived and we started business with e-waste."
--Mohammed Moinuddin, e-waste recycler, Kolkata, northeast India.
Electronic waste or e-waste, as it is better known, has become a growing problem due to the ongoing technology revolution which has led to an increase in new electronic products. This, in turn, is creating a vast pile of obsolete products which contain both toxic substances and recoverable precious metals. In reality, e-waste is expensive to recycle in a manner that is safe to humans and the environment so the waste is often shipped from affluent countries to poorer countries. Therefore the majority of e-waste is recycled in developing countries where rules are lax when to it comes to the hazardous extraction of these materials and substantial profits are being made as workers are poorly paid for toiling in dangerous conditions.
In India, for instance, much of the extraction is done by unregulated backyard operators where metals are reclaimed and reprocessed. This can involve wet chemical processing and incineration with workers being directly exposed and inhaling harmful chemicals. Safety equipment such as gloves, face mask and ventilation fans are virtually unknown and workers often have little idea what they are handling. There are loopholes in the existing laws which allow the importation of donated electronics and peripherals which are less than 10 years old. Such loopholes are exploited by the Indian importers and foreign countries to dump e-waste in the country.
Priti Mahesh is a senior program coordinator for Toxic Links, a Delhi-based NGO focused on toxic waste issues in India. She said:
"According to recent studies, almost 2.7 million tons of electronic waste are being generated annually in India. That's a huge quantity of waste from a country like India."
Valuable metals which can be recovered include copper, silver, gold and platinum. But toxic substances such as lithium, mercury, PCBs, arsenic, brominated flame retardants and lead, plus many others, are present. These pose a huge risk to humans, animals and the environment and the presence of heavy metals such as beryllium and cadmium are a significant threat even in minute quantities. Mahesh added:
"I think the problem is compounded mainly because of the way it's handled in this country. The toxicity is known to everybody, but when the toxicity in handled in the informal sector in a bad or improper manner, it leads to a lot of problems, not just for the environment but for people's health. This work happens within community areas or within residential areas, so that entire families are exposed to the toxic elements."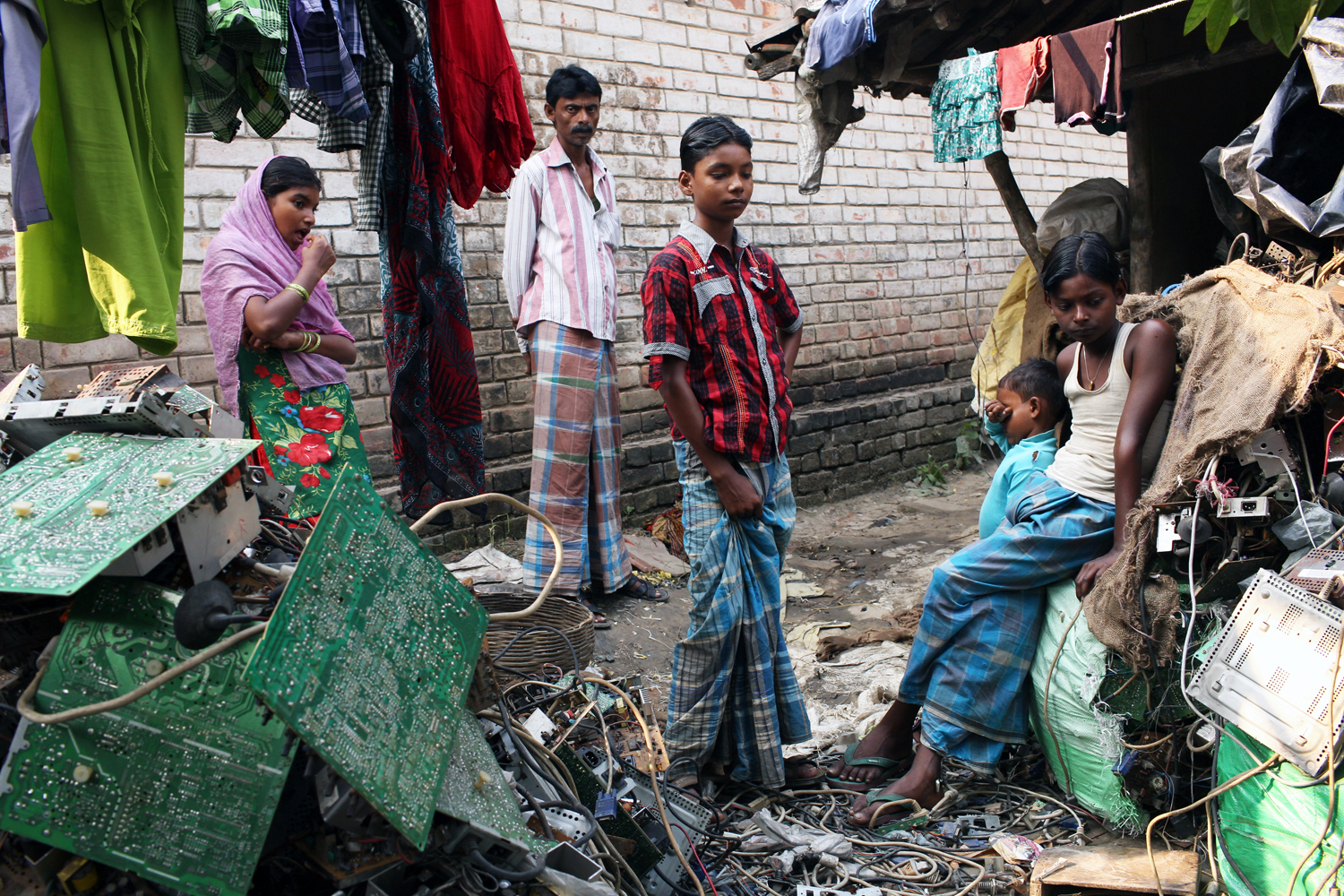 International treaties such as the Basel Convention are aimed at reducing and regulating the movement of hazardous waste between nations. Even so, the illegal shipment and dumping of e-waste continues to take place. India ranks 177 among 180 countries and is among the bottom five countries on the Environmental Performance Index 2018. The categories under which India did so badly were linked to poor performance in the environment, health policy and deaths due to pollution. India imports huge amounts of e-waste from around the world and most of it is dumped in open dumpsites giving rise to concerns such as groundwater contamination, poor health and more.
https://epi.yale.edu/downloads/epi2018policymakerssummaryv01.pdf
Africa also has big problems with e-waste dumping and the subsequent hazardous retrieval of valuable materials. Over the past years it has become one of the biggest destinations for the dumping of electronic waste and it is increasing at an alarming rate. This poses a massive risk to the environment and the people living in places like Nigeria and Ghana. In Accra in Ghana, one of the worst practices is the burning of electrical wire to get rid of insulation and recover the copper within. This is mostly carried out by teenagers and has terrible consequences on their respiratory and immune systems. It also leads to dioxin releases equivalent to 15% of the whole of Europe.
The slum area of Agbogbloshie in Accra is the world's largest e-waste dump, with pollution in land, air, waters and bodies having reached dramatic levels. Karim, a local scrap dealer said:
"Electric waste comes here from all over the world – but especially from Europe. We get a lot of health problems here, but we manage, because we need the money."
The e-waste is either illegally dumped or legally exported in the form of second hand electronic or electrical equipment from the UK, US and EU. In 2009, 280,000 metric tons of e-waste entered Ghana, of which only 1% were processed through a formal facility. The share of working electronic goods found inside a typical e-waste shipment ranges from 25% to 60% and the Ghanaian government said it would create a bill to ban the import of e-waste but thousands of people in the area have no other alternative income and depend on the scrapyard for a living. It is estimated that e-waste activities sustain the livelihoods of over 200,000 people.
"This is not a good place to live. But we don't want people in Europe and all those places to stop sending the waste. This is a business centre, and we are using the money we make here to help our families to have a better life."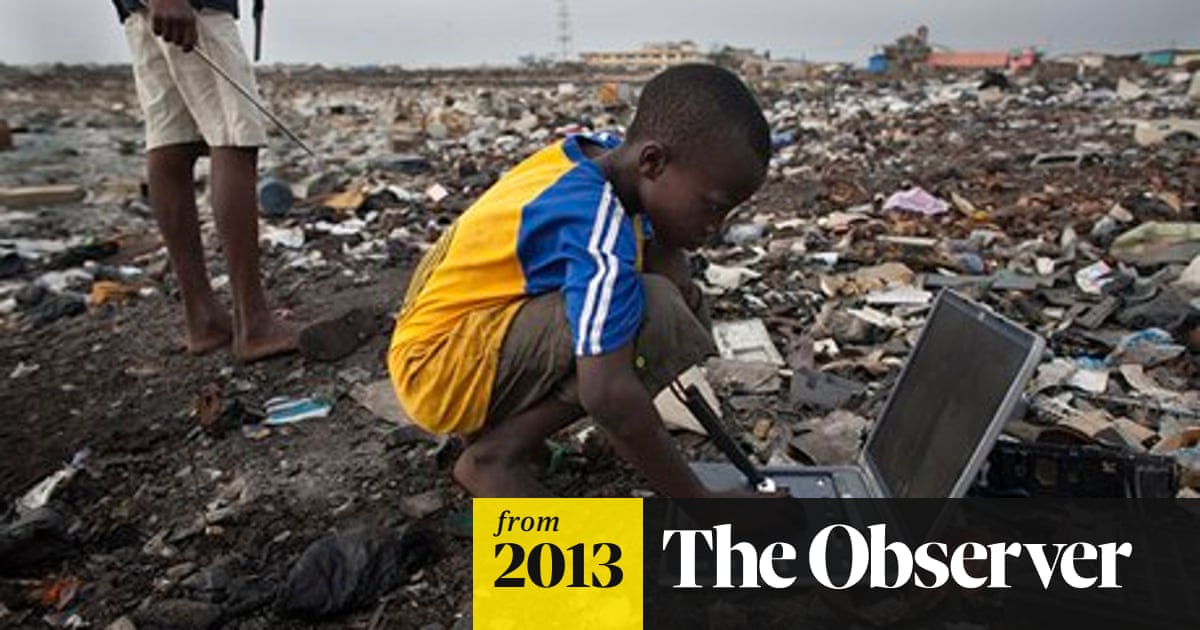 Thousands of tons of pollution-filled waste are shipped illegally to Nigeria each year and most of it is coming from Europe according to a report. The researchers checked 200 shipping containers and 2,100 vehicles heading to Nigeria and found that in 2015 and 2016, 66,000 tons of used electronics where shipped into the country. Of that amount, 16,900 tons didn't work – which qualifies it as waste and makes shipping it illegal. In the report, the researchers said that to solve the problem, Nigeria and exporter countries both need to bolster monitoring with penalties for illegal e-waste shipments or incentives for those following the rules.
https://collections.unu.edu/eserv/UNU:6349/PiPReport.pdf
E-waste has a found a comfortable niche in Nigeria because for almost two decades now, the country has consistently ranked very poorly when it comes to corruption. Given the history and prevalence of corruption, it is easy to understand why the country would have a hard time controlling an illegal waste trade. It is a daunting task for Nigeria to effectively tackle this without national legislation and a strong, stable enforcement regime. Also, with much of the economic attention on its oil industry, it is possible that other sectors of the nation's economy have been neglected by government regulation.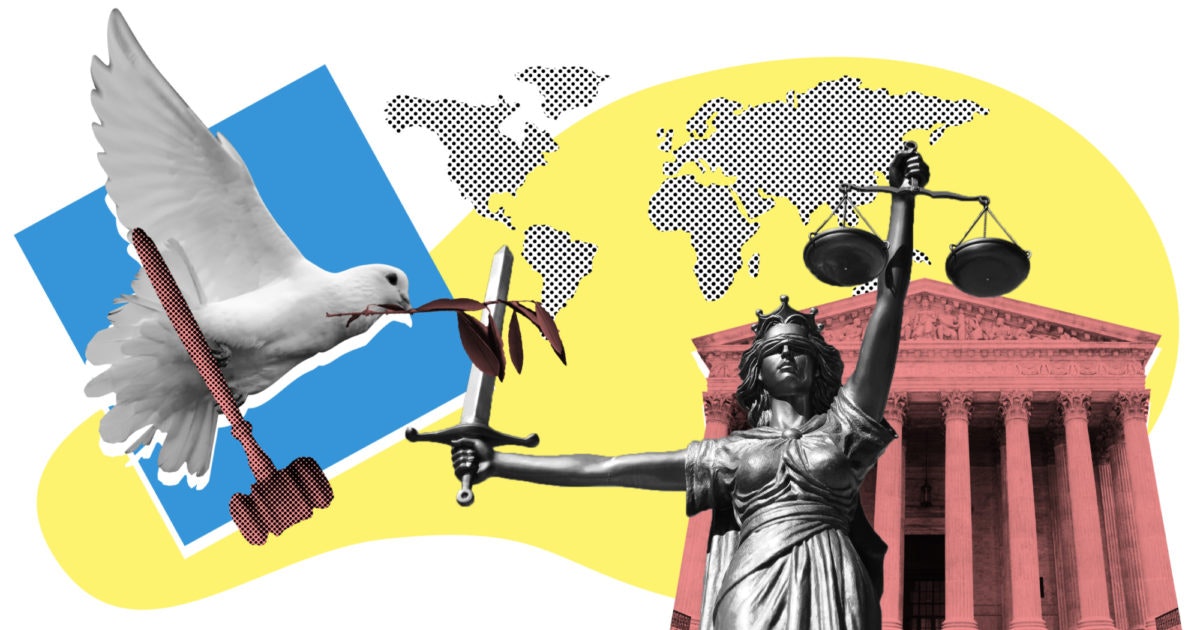 A more long term solution to manage e-waste would be for manufacturers to develop environment friendly products that have a longer lifespan than the products currently in the market. Priti Mahesh commented that:
"Companies aren't designing products that are designed to last. There is no incentive to design products to last longer. The companies don't really invest into research on improving the life-cycle of products."
It's an apparently never-ending cycle but we can break it! Do your bit!
💬
We publish a daily dose of decentralization here every day (UTC+8), for additional daily updates follow us on Mastodon, Twitter, Telegram or Element(Matrix). Please like & share all our output. We rely on User-Generated Content so why not write for us and since we try to avoid ads and sponsorship, why not donate to help us continue our work - all major cryptos accepted. You can contact us at decentralize.today and at blog@decentralize.today