In this week's edition of EXPOSED! I'm taking a look at an issue that, I believe, many people don't realize still exists...
Slavery, long banned and universally condemned, persists in many corners of the world, victimizing tens of millions of people. It is estimated that women and girls make up 71% of total people in slavery, with one in four victims being a child. Half of all victims are in debt bondage.
Debt bondage has been around since feudal times when employers would use this tactic to enslave those who were lower down the social order. Nowadays, debt bondage can be instigated through the use of misleading tactics such as offering job opportunities in exchange for a small debt. The debt however, compounds with high interest and becomes impossible to pay off. In Southeast Asia, domestic workers are particularly vulnerable to this practice. Costs are added by the employer for the employee to pay such as for accommodation, food and clothing, medical expenses etc. These soon outweigh the supposed salary and thus that person ends up enslaved and basically works without any remuneration.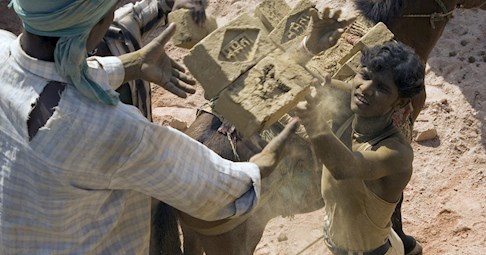 In 1976 the Indian Government adopted the Bonded Labour System Abolition Act. This was in an effort to stop the debtor-creditor relationship in employment which led to inter-generational customary bondage. India's worst form of bonded labour is in its notorious brick kilns. This industry tends to be in rural or semi-rural settings and is therefore out of sight of state and social monitoring. With nowhere else for them to go, a lot children end up staying with their parents at the kilns. As they are from migrant families, there is a lack of schools and teachers who can provide lessons in their local language and inevitably they become involved in the production of the bricks. The expansion of the real estate sector in India in recent years has fueled the demand for bricks by the construction industry.
In 2014, Chandan Kumar founded "Blood Bricks", which was a campaign to expose construction sector abuses. He said
"The scale and magnitude of the problem is massive. There are gross violations happening in many of these kilns, but the government does not have the resources or the capacity to inspect these places and check on the conditions under which workers are living, much of which amounts to modern day slavery."
Aeshalla Krishna is a labour activist with the Prayas human rights group and he said
"All of this is against the law. This is against the minimum wage act of 1948, the bonded labour act of 1976, the interstate migrant workers act of 1979. Child labour. Sexual harassment. Physical abuse. It's all happening. Every day. They work 12 to 18 hours a day, pregnant women, children, adolescent girls. Their diet is poor. There is no good water. They live like slaves."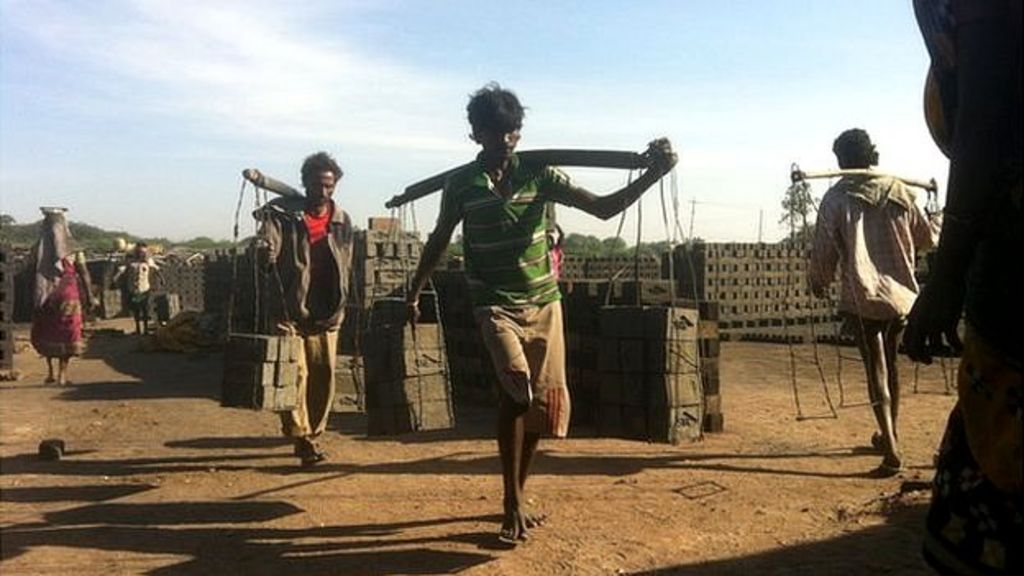 As part of operation Smile, which is a national campaign in India aimed at child labour and missing children, the police close to the city of Hyderabad rescued nearly 200 children who were working at a brick kiln. Most were under 14 with girls as young as 7 found carrying bricks on their heads. P. Achyuta Rao, member of the local state body responsible for protecting children's rights, pointed to the states of Telangana and neighbouring Andra Pradesh as hubs for child trafficking and child labour.
"Last year more than 3,000 children were rescued, many from brick kilns and domestic servitude. In all cases the children were from eastern India."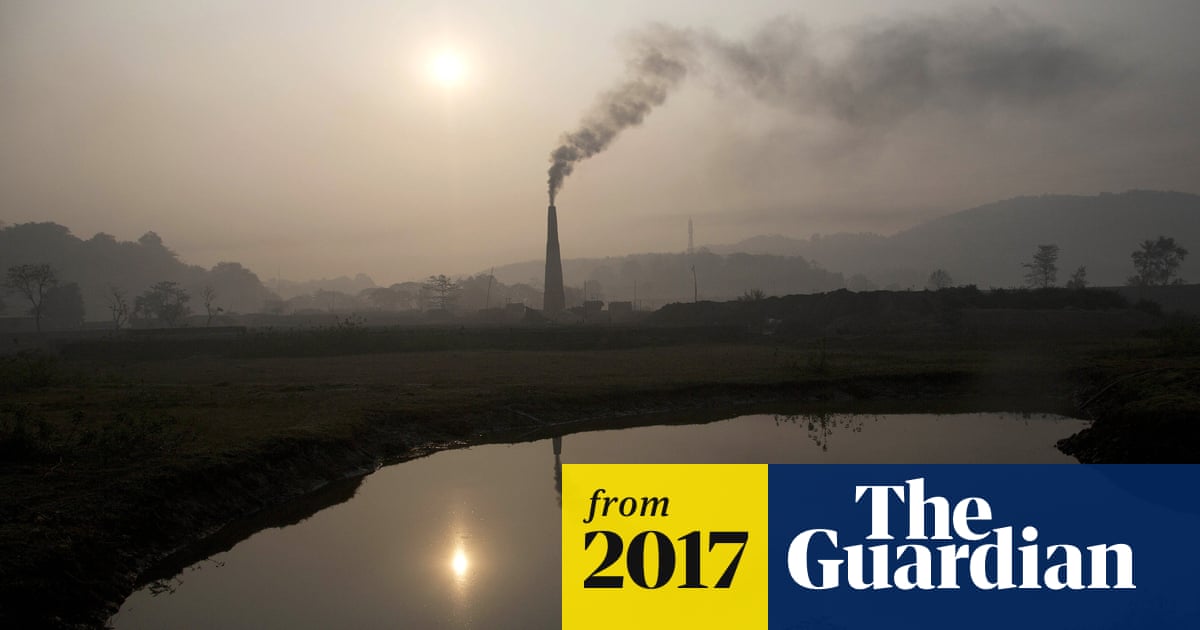 "The agents who come to our villages spot families in distress. They know when there has been an unforeseen expenditure and then offer the loans. They come to us when we have hit rock bottom and have no choice but to agree to their terms."
--Brick kiln worker.
Modern day slavery is a worldwide problem. Many Romanian girls in an effort to escape poverty at home are lured to Europe with the promise of a regular, well paying job. Once they arrive they are given a list of expenses they owe and are forced to work in brothels to pay off the debt. Romanian investigators have found that the main destination was the UK. One senior anti-trafficking officer explained that the recruiters are
"psychological hunters...they have the power to pinpoint vulnerability. They know the victims have trouble at home, no income, trouble in finding a job."
In brothels raided recently by police in the UK the percentage of Romanian prostitutes present is high. 86% in Leicestershire, 75% in Northumbria and 92% of women caught soliciting for sex on the streets of Redbridge in London were from Romania. Moreover, one third of Romanian trafficking victims are underage girls.
https://2009-2017.state.gov/j/tip/rls/tiprpt/2014//index.htm
The police in London are overwhelmed by the problem and at times are having to close one brothel per week. Joint operations have been taking place involving the Metropolitan police, the Crown Prosecution Service, Romanian police and prosecutors, Europol and Eurojust. In November of 2019, 17 people were arrested in synchronized raids across London where 29 women were rescued. Three women were held on suspicion of modern slavery, controlling prostitution, drug offenses and firearm offenses. DCI Richard McDonagh from the Met's Modern Slavery and Kidnap Unit said  
"The Met recognises the seriousness of modern slavery and the devastation it brings to people's lives. We have the investigative capability across frontline policing and have invested in specialist resources through our central specialist crime-vulnerabilty investigation team which tackles complex cases. This allows us to target offenders and support victims."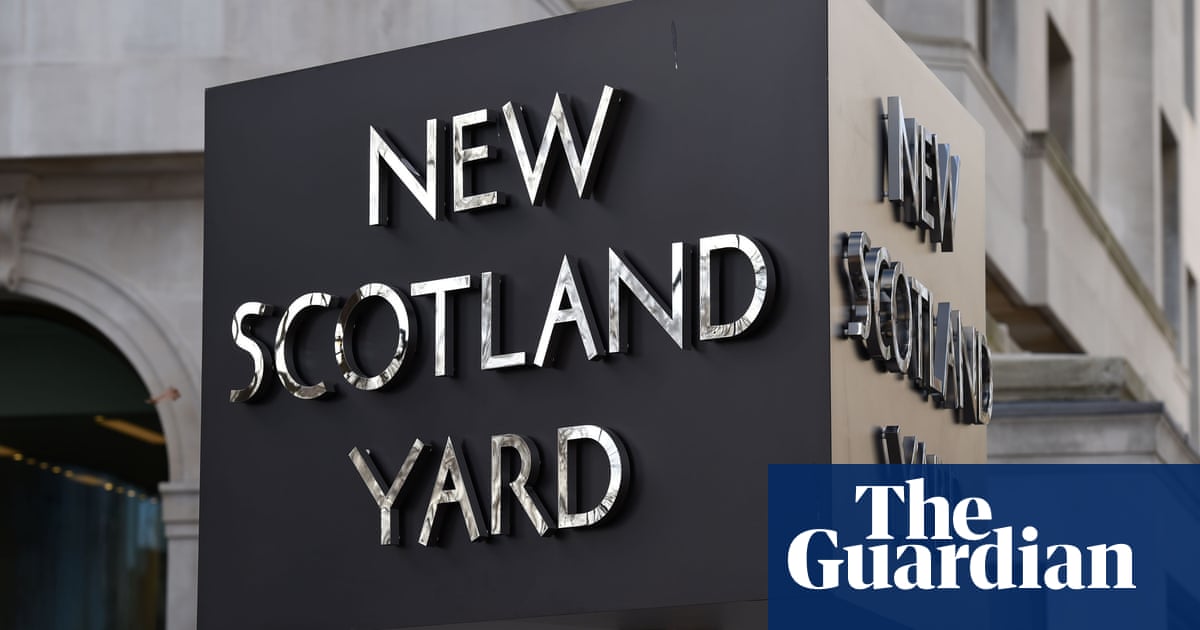 In November of last year, 39 Vietnamese sadly died of asphyxiation in the back of a shipping container as they were being smuggled into the UK to work illegally. Having paid anywhere between $10,000 and $50,000 for the journey, the migrants would have most likely ended up working in one of the UK's beauty salons or nail bars as they are called. It looks innocent enough giving customers manicures but away from the shop they are kept isolated and controlled, easily done with the threat of deportation hanging over their heads.
Other Vietnamese migrants find themselves forced to work as "gardeners" in houses converted into illegal cannabis growing operations. Locked inside they face the risk of fire from tampered electrical wiring and health problems from noxious chemicals.
Anti-slavery  ommissioner Kevin Hyland said
"This is serious and organised crime, with people being traded as a commodity. We have consistently seen links  between nail bars and illegal migration. We know some are feeding and funding organised crime. The public need to recognise that there is a risk with nail bars, so that they are aware of the signs. Warning signals might include very young-looking members of staff, low prices, rapid turnover of staff, controlling behavior by senior staff or a complete language barrier with the nail technician."
With reference to the 39 deaths, Father Simon Thang Duc Nguyen, the parish priest at a Catholic church in East London with migrant parishioners said
" The mother, the father, all called me in tears. I couldn't bear hearing the words. You have to borrow a lot of money for this journey, and now you had hoped your daughter, your son can be successful, and  that you can have some money to pay the debt. Now, it's hopeless—nothing."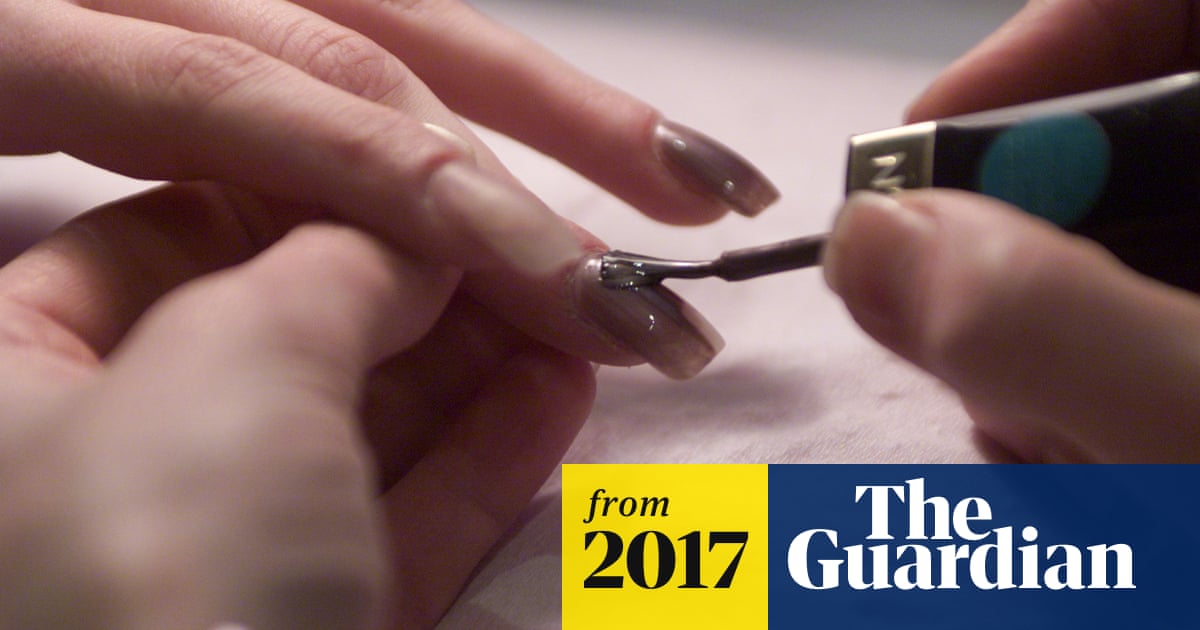 The problem of modern day slavery also exists in the US. The Global Slavery Index estimates that there are more than 400,000 modern slaves in the country. Andrew Forrest, the group's founder said
"This is a truly staggering statistic and demonstrates just how substantial the issue is  globally. This is only possible through a tolerance of exploitation."
Many cases in the country involve domestic servitude wherein both legal and undocumented workers travel to the US with the promise of gainful employment. This turns out to be false with migrants held against their will and forced to work. Forced labour in the agriculture, fishing, construction and manufacturing industries persists throughout the US due to under reporting, lack of investigation by law enforcement and lack of awareness among the general public.
https://www.globalslaveryindex.org/
We all love the beautiful game and eagerly look forward to the 2022 World Cup to be held in Qatar. Preparations for the tournament are well underway but all the smiling faces of the Qatari and FIFA officials belie the fact that the infrastructure for the event is being built partially by modern day slaves. Eager to work overseas and provide for their families, young workers are recruited under false pretenses in their home countries. Once they arrive in Qatar, they find themselves deprived of their dignity, living in squalid labour camps following their daily toil in searing heat to build the stadiums and other amenities.
Qatar has the dubious honor of being ranked 5th globally in terms of modern slavery, coming behind North Korea, Uzbekistan, Cambodia and India. This will come as a surprise to many as the country constantly touts its image of modernity, with its gleaming skyscrapers and world renowned airline. But peel back this veneer and you will find a worrying picture of exploitation of vulnerable, unskilled workers trapped in a debt cycle, having taken out loans to pay for their recruitment. What starts out as a small loan spirals out of all proportion with high interest rates. As with other Gulf States, workers in Qatar are employed under the exploitative "kafala" system. This requires all migrant workers to have a sponsor in the country where they intend to work and that person is responsible for the worker's visa and legal status. It is common practice for employers to take away the passports of workers and they thus find themselves stuck and beholden to that employer. An exit visa system prevents workers from leaving the country without the sponsor's permission. Employer's consent is also required to change jobs, get a driver's license, rent a home or open a checking account. Amnesty International witnessed workers signing false statements that they had received their wages in order to have their passports returned. Human Rights Watch has likened the near feudal conditions to forced labour.
Sharon Burrow, General Secretary of the International Trade Union Confederation said
"In late 2010 we conducted a risk assessment looking at basic fundamental labour rights. The Gulf region stood out like a red light. They were absolutely at the bottom end for rights for workers. They were fundamentally slave states."
It is not just the lack of wages and the terrible living conditions which the workers have to endure and an international campaign by several groups was launched in 2015 to highlight the terrible conditions faced by those who were building the World Cup infrastructure. This involved the International Trade Union Confederation (ITUC), NewFifaNow group and Play Fair Qatar, with some startling statistics concerning the number of deaths taking place on the various construction sites being revealed. Play Fair Qatar said
"As things stand, more than 62 workers will die for each game played during the 2022 tournament."
So how many workers have died as a result of trying to fulfill Qatar's dream? Going to the Nepali and Indian embassies in Qatar, the ITUC were given total deaths of 1,239 from 2011 to 2013. Given that these 2 countries only represent 60% out of a total of 1.4 million migrant workers, the final figure will be far higher, with the ITUC predicting 4,000 fatalities before the 2022 FIFA World Cup begins.
By way of comparison, the ITUC also released information about worker deaths in the lead up to other large sporting events:
60 were killed preparing for the 2014 Winter Olympics in Sochi.
10 died for the 2010 Beijing Olympics.
7 lives were lost during construction for the 2014 World Cup in Brazil.
London had zero fatalities for the 2012 Olympics and Sydney registered one death for the 2000 Olympics.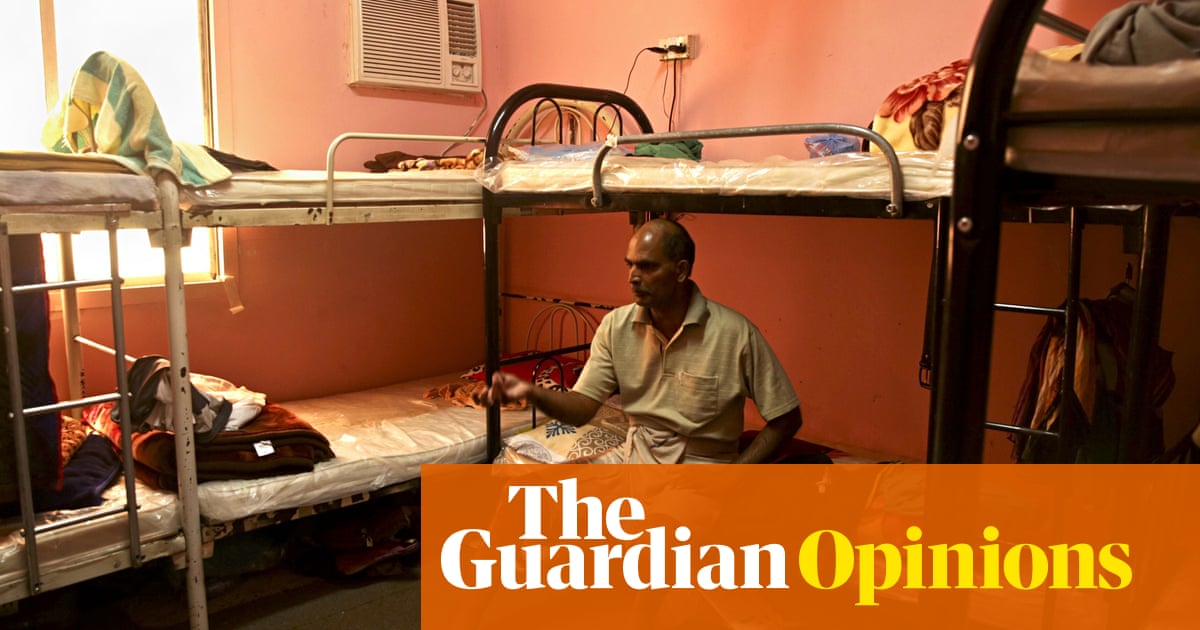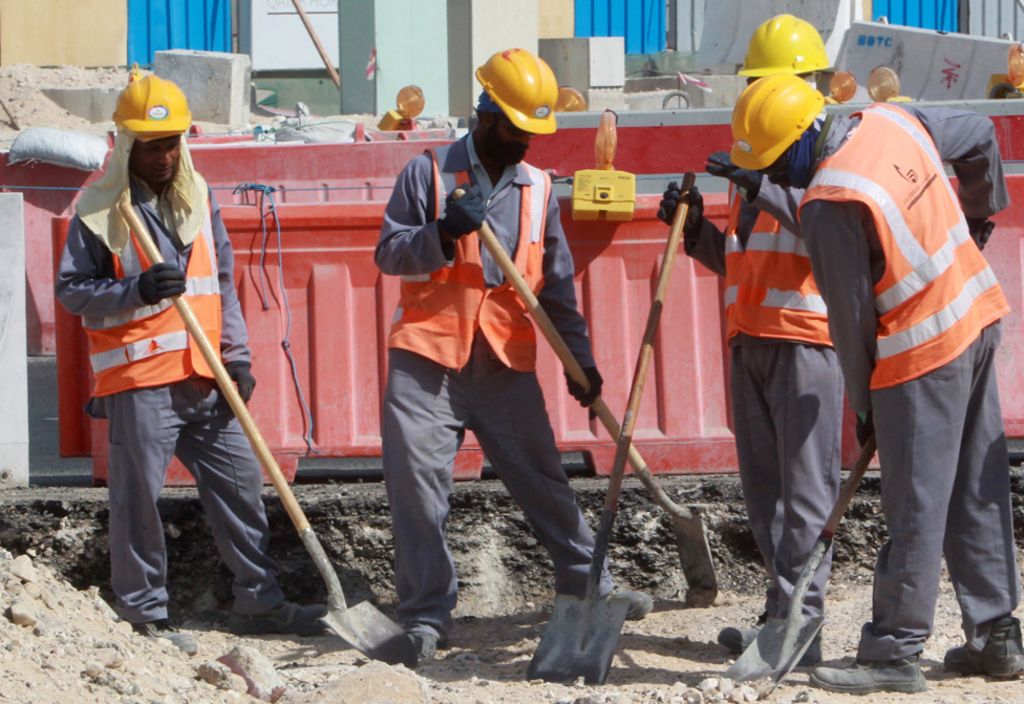 And the sad irony about all of this? Qatar tops the list of the world's richest countries with the highest GDP per capita. This sits at $146,011 with most residents enjoying a very high standard of living.
There are more slaves in contemporary society than at the height of the transatlantic slave trade.