EXPOSED! is a weekly series that decentralize.today runs that looks to unveil the dirty dealings of corporations, individuals and governments, often in collusion with each other.
Today, thanks to a tweet thread from Christopher Bloomstrad, we get an insight into how Manbot Mark Zuckerberg has been splaffling billions of OPM (other peoples money) on his wild eyed schemes...
Christopher Bloomstran@ChrisBloomstran
Capital Allocation, Silicon Valley Style.
Myriad reasons for $META's 74% Faceplant, but consider the abuse of the shareholder for capital allocation gone haywire.
2017 was apparently the right time to initiate repos.
EVERY share bought, by the firm, or anybody, is underwater.
Christopher Bloomstran@ChrisBloomstran
1/ In the span of 5.75 years, Zuck and Co. spent $112B buying FB/META shares, a not insignificant 78% of cumulative $143B profit and fully half of $222B in cash flow from operations.
Price seems to have not been an object, buying 435 million shares for an average $257 per share.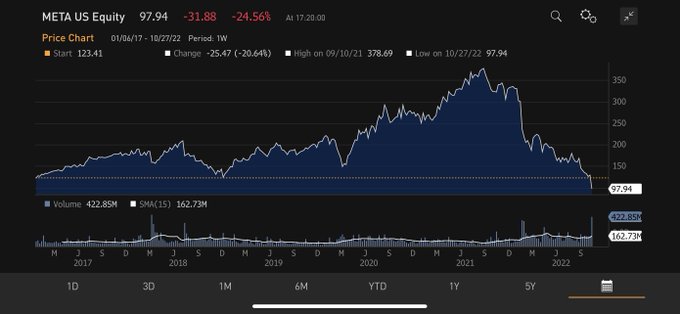 Christopher Bloomstran@ChrisBloomstran
2/ It appears the motive during 2017-2020 was to offset any dilution from shares given to insiders at lower prices and exercised at higher prices, the company thus on the other side, becoming the high buyer and low seller. Share count was barely unchanged during those four years.
Christopher Bloomstran@ChrisBloomstran
3/ The repo orgy heated up in 2021, when FB shelled out $50 billion large, yet earned only $39 billion.
Average price paid per share in 2021? $330, against today's $97.94.
That's paying a $925B market cap against $260B today and $28B in current year profit.
Corporate strategy.
Christopher Bloomstran@ChrisBloomstran
4/ Here in 2022 repos total $24 billion vs $18.5 billion in profit.
But surely the shareholder benefitted from the repurchases via increased ownership in the company, right?
I mean if you spend $112 billion, 78% of profit buying shares the share count must be way lower, right?
Christopher Bloomstran@ChrisBloomstran
5/ Wrong.
Would you be shocked to learn that it took $112 billion to shrink the FB/META shares outstanding by all of.....wait for it.....less than 7% cumulatively.
A stunning 78% of profit and 50% of CFO dropped the shares outstanding from 2.888B to 2.687B, a mere 201m reduction.
Christopher Bloomstran@ChrisBloomstran
6/ But FB bought back 435 million shares.
How could the share count only shrink by 201 million?
Recall that pesky Share Based Compensation line on the statement of cash flows, the one management tells you is not cash?
Loads of shares out the door, 2% every year. SBC totaled $37B.
Christopher Bloomstran@ChrisBloomstran
7/ Meta IS investing for growth. Capital expenditures, a rapidly growing sum, totaled $92 billion since the outset of 2017 versus $34 billion in depreciation and amortization expense.
It takes money for not only data centers but building virtual living rooms.
I must lack vision.
Christopher Bloomstran@ChrisBloomstran
8/ When spending the majority of profit buying shares at high prices to offset the dilution that makes insiders rich, you need money from somewhere.
This massively profitable company had $29B in cash in '17 and no debt; today bearing $26B in debt and a $14B shrink in net cash.
Christopher Bloomstran@ChrisBloomstran
9/ Perhaps the best way to summarize the extraordinary misallocation of capital is comparing the $112 billion spent retiring shares for 7% of the company against today's $260 billion market cap - Had team Zuck bought instead at today's price? That's 43% of the company, not 7%.
Christopher Bloomstran@ChrisBloomstran
10/ But don't cry for the $FB $META insiders.
The net 235 million shares cashed in by insiders, call it $60 billion sold for cash to the company, must have been put to good use.
After all, we got the wholesome SPAC thing and the next Warren Buffett for sure.
And we got patriotism.
💡
We publish daily doses of decentralization to over 3900 regular visitors, and boost out on
Mastodon
,
Twitter
,
Telegram
, Tribel and
Element
(Matrix) to over 4200 daily followers and growing! Please like & share our output. We rely on you for content, so please
write
for us. We welcome sponsorship and
donations
to help us continue our work - all major cryptos accepted or maybe buy us a coffee. Contact us at blog@decentralize.today - many thanks for all donations received, much appreciated.