When we spoke recently about the 'military-industrial complex' in the USA in an episode of EXPOSED! that focused on the oil services giant, Halliburton, we suggested that it still very much exists, just possibly with some new players.
Times were that the US Military 'conspired' with heavy industries to get the bombs, tanks, ships and planes it claimed it needed to keep us safe. It was all a bit of a scam, frankly, with orders inflated, impossible specifications constantly missed, price gouging and largely inefficient programmes, especially in peacetime.
Seems nothing was too good for the Military as long as the politicians (who were also largely in cahoots with Big Industry) kept drumming up public concerns about the 'commies' or the terrorists.
Today, whilst the traditional providers of military hardware are still very much around (albeit some absorbed by competitors or merged)...think Boeing, Lockheed Martin, Raytheon; Huntington Ingalls Industries. (shipbuilders), General Dynamics to name a few (some better known than others). However, as the nature of war and peace has changed so has the way governments and militaries respond, especially when it comes to the increased threat from insurgency and the cyber world.
A lot of the new wave of companies within the complex are high tech, highly specialist corporations with very specific skills, all on sale at quite remarkable prices.  One of those is the subject of today's EXPOSED!
Palantir describes itself in press releases as:
"...a software company that builds enterprise data platforms for use by organizations with complex and sensitive data environments. From building safer cars and planes, to discovering new drugs and combating terrorism, Palantir helps customers across the public, private, and nonprofit sectors transform the way they use their data."
All sounds highly innocent and even worthy, but is there another side to this increasingly pervasive organization?
This can be partially covered by revisiting the EXPOSED! we ran on one of the company's founder, Peter Thiel, last year.
Links to Big Government and the Security/Military Services
The data analytics software company has built its business around clients within the largest defense industry institutions including the U.S. Army, U.S. Navy, and CIA as well as companies like IBM, Amazon, and Airbus (many of whom are also heavily involved in government contracts).
In fact, upon founding in 2003 (2 years after 9/11), Palantir originally started off building software for the U.S. intelligence community to assist in its counterterrorism investigations and operations.
Recent examples of its continuing work include a contract with the U.S. Army to develop a new intelligence interpretation platform, worth an estimated $823 million. It has worked with U.S. Customs and Border Protection (CBP) to track immigrants at the U.S. southern border.
Worryingly, in 2018, it was found to be secretly testing its predictive policing software in New Orleans. It was also working on a tool for the Department of Health and Human Services (HHS) to track the spread of the coronavirus. It is still unclear how the data employed was being collected and manipulated.
The U.K. government is ending a arrangement with Palantir following criticism from privacy groups about the lack of transparency on how the contract was awarded. In fairness, it is one of several questionable contract awards which the current U.K. government is having to explain.
Curiously, the cancellation concerned the National Health Service (NHS) decision to transfer its Adult Social Care Dashboard away from third-party providers (including Palantir) to its own system, built by BAE Systems Plc, Europe's largest defense firm!
As of 2020, over 60% of all the company's revenues are derived from government contracts. When you understand their core competencies of data collection and management and you review their clients, of which only a few are listed above, it is a short hop to realizing the potential power and support they could (and do) provide for governments. Currently, Palantir products are used by clients across 40 industries and in more than 150 countries.
New Kids in Town
For other players within the modern incarnation of the military-industrial complex, you can take as a 'for instance' SpaceX and Blue Origin, although that one has ended in a very public spat and more than a few tears. The principal issue here was the former President's intervention at the Pentagon to ensure that Jeff Bezos, Blue Origin (& Amazon) founder and owner of the Washington Post (hugely critical of the then President) did not win the contract!
And if you're saying but this is civilian, this is the space race and therefore don't think this really extends to the 'military-industrial complex'? Well, just check out the end user and the payloads on another recently awarded mega-contract!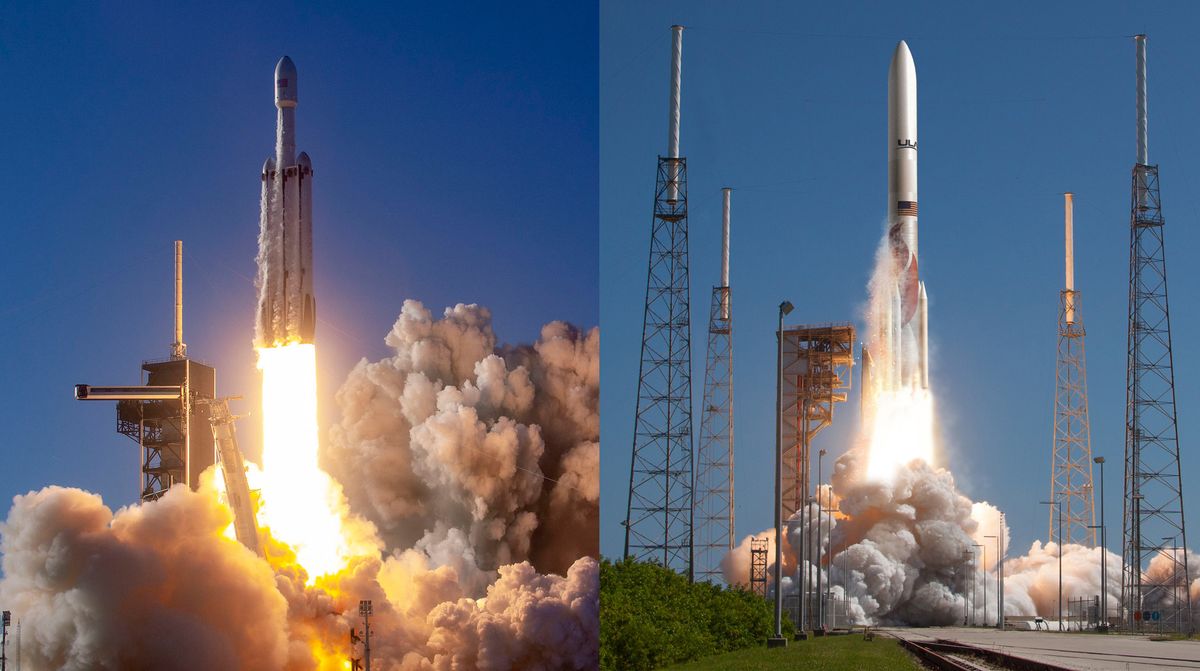 On the fringes of the complex are some interesting organizations representing the 'outsourcing of basic services' arm of the network, including the management of the infamous personal security contractors or body guards such as Blackwater and Halliburton.
Europe is not immune to this phenomenon, just as the USA has the  F-35 programme with its massive overspend and failure to live up to expectations so the Europeans, through Airbus Defence and Space, have the A400M. For scale, many European countries collaborate which helps establish and propagate its own complex, partially to freeze out US Arms manufacturers.
However, due to the complexity of some systems the US often 'fills the gap', see the situation with the UK's nuclear weapons, with the submarine carried Trident missiles being supplied at a cool GBP 100 billion by a US supplier as an example.
Of course, when expedient, the complexes will push governmental co-operation as in the case of the recently resolved Boeing vs Airbus vs WTO trade dispute where both aircraft makers were being accused by the other of illegal government subsidies but then essentially and conveniently disguised it as 'military research funding'.
Founded in 2003, it is curious that Palantir Technologies Inc has never turned a profit in all those years, but is still valued at in excess of USD 50 Bn. Good work if you can get it!
And as a final footnote, Palantir was named after the mystical, all-seeing stone in the "Lord of the Rings". One of the trilogy's villains, the wizard Saruman, used a 'palantir' to surveil his enemies, so now you know!
Reference Links
https://www.palantir.com/ (will not display in bookmarks as URL contains insufficient metadata, which is curious given what they are supposed to be good at!)
💬
We publish a daily dose of decentralization here every day (UTC+8), for additional daily updates follow us on Mastodon, Twitter, Telegram or Element(Matrix). Please like & share all our output. We rely on User-Generated Content so why not write for us and since we try to avoid ads and sponsorship, why not donate to help us continue our work - all major cryptos accepted. You can contact us at decentralize.today and at blog@decentralize.today