TWEETSTORM is an occasional feature on decentralize.today where we share threads , mostly from Twitter, that we think deserve a wider audience, some are informative, some educational, some amusing and others yet are controversial...we dig these out for you so you don't have to!
Today's is particularly worrying! The Bow Tied Iguana takes up the thread...
READ THIS THREAD OR GO TO JAIL FOR 30 YEARS (sorry not kidding)
Tornado Cash added to US sanctions list - $437m of assets blocked.
What is OFAC, what are sanctions, and what does this mean for DeFi
OFAC = Office of Foreign Assets Control
They administer and enforce sanctions against high profile individuals including major international terrorists, drug trafficking kingpins, and the financial/political elite of certain countries deemed hostile to American interests.
OFAC ensures that Americans cannot legally do business with Cuba, Iran, Iraq, North Korea, etc without special government approval.
OFAC's maintains a List of Specially Designated Nationals and Blocked Persons (SDN List).
You can search this list here:
https://home.treasury.gov/policy-issues/financial-sanctions/specially-designated-nationals-and-blocked-persons-list-sdn-human-readable-lists.
home.treasury.govSpecially Designated Nationals And Blocked Persons List (SDN) Human Readable ListsLast Updated: 08/01/2022 As part of its enforcement efforts, OFAC publishes a list of individuals and companies owned or controlled by, or acting for or on behalf of, targeted countries. It also...
On August 8, 2022 Tornado Cash and all the Ethereum wallet addresses associated with Tornado Cash and its smart contracts were added to OFAC's SDN List.
home.treasury.govCyber-related Designation
All of Tornado Cash is blocked (can't be used by US persons), including their @Gitcoin grants wallet.
We scraped the wallet info from Etherscan - it is all of their addresses totaling $437m of stablecoins, ETH and WBTC.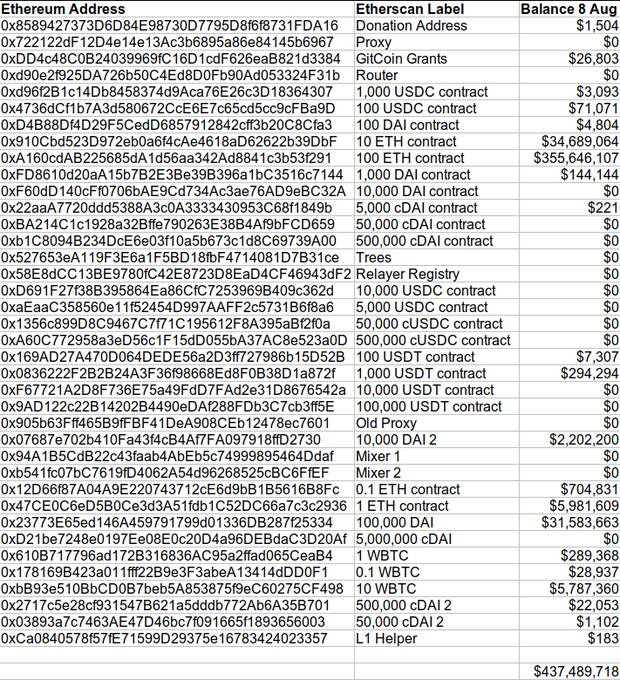 It is illegal for *any* US 'person' to engage in trade, economic transactions, or "other dealings" with any person, company, or country on the SDN List.
This now includes using Tornado Cash.
A US person is any citizen, resident, or company in the US.
Fines, civil, and criminal penalties can exceed Several Million Dollars.
The maximum civil penalty for a 'non-egregious case' is $330,947.
Jail time for violations is a maximum of 30 years.
http://ecfr.gov/cgi-bin/text-idx?SID=79fb60d9ee14ca090c6cb44810b51918&mc=true&tpl=/ecfrbrowse/Title31/31cfr501_main_02.tpl
"Other dealings" is quite broad. Government guidance states it could include "technical transactions such as downloading a software patch from a sanctioned entity".
At this point it is probably illegal for US persons to visit the Tornado website.
Blocking immediately imposes an across-the-board prohibition against transfers or dealings of any kind with regard to the Tornado Cash property.
For WBTC, USDC, USDT we expect the issuers to take all technical steps to prevent anyone from moving or redeeming these assets.
Circle's USDC can be frozen at the smart contract level.
You can see the banned address list on Dune. Tornado isn't added *yet*.
dune.comDuneBlockchain ecosystem analytics by and for the community. Explore and share data from Ethereum, xDai, Polygon, Optimism, BSC and Solana for free.
Tether's USDT can also be blacklisted on the Ethereum smart contract level.
You can see the banned address list on Dune.
dune.comDuneBlockchain ecosystem analytics by and for the community. Explore and share data from Ethereum, xDai, Polygon, Optimism, BSC and Solana for free.
WBTC is issued by BitGo.
Its entities are in in South Dakota and New York.
They must obey OFAC sanctions or face million dollar fines and jail time for their execs.
We therefore expect them to suspend redemptions of the tainted WBTC, rendering those tokens worthless.
Liquidity Providers will likely end up as bagholders for blocked WBTC (and stablecoin) assets if they do not pull liquidity from DEX *immediately*.
What does this mean for Ethereum miners and stakers who are US persons?
There's no legal precedent we're aware of and we're not lawyers but it doesn't look good.
It seems possible that breach of OFAC sanctions would occur if a miner or validator produces (or validates) an Ethereum block which contains a transaction including one of the Ethereum addresses on the SDN list.
However, how it'll be enforced is unclear.
Speculation: Ethereum client software might be updated with an opt-in patch allowing miners/validators to ignore tainted mempool transactions to avoid breaching sanctions.
Transaction censorship isn't popular but we could see this being done in house by large US miners / stakers.
It may be a risk for any US based fund invested in Ethereum proof of stake as voting for blocks containing the illegal transactions could be an illegal activity.
We expect either technical countermeasures (voluntary censorship) or moving business outside US jurisdiction.
CEX will be expected to use their Chainanalysis software to block and report all customer transactions which are in breach of sanctions.
This means anyone who withdraws from Tornado Cash and tries to withdraw via a US-linked CEX.
Non-US divisions of exchanges are separate legal entities, but could be seen as de facto 'foreign branches' of the US entity.
Exchanges are strongly incentivized to ensure that their foreign-registered group companies also comply fully with OFAC sanctions.
To summarize the US is willing to use its highest level of economic sanctions usually reserved for foreign powers and extremely dangerous people against a privacy product in crypto
if you are a US person, any interaction with Tornado Cash is probably illegal - including Gitcoin donations, working for the project, running or downloading its software, visiting its website, and depositing/withdrawing from smart contracts
all assets in Tornado as of August 8th are tainted.
Tether, Circle, and BitGo will refuse to redeem these tokens.
It is likely that the tokens will be withdrawn from TC anyway and dumped into liquidity pools.
Liquidity Providers will be left holding the bag
there is a small risk of DEX pools for these tainted assets being blacklisted in their entirety out of an abundance of caution by the issuers (Circle, Tether, BitGo)
US persons running Ethereum mining or staking operations are possibly at legal risk - these businesses may self-censor transactions or move offshore DeFi protocols beyond DEX which interact with Tornado'd funds may be at legal risk, as may be their (US based) staff
We will keep DeFi Education subscribers up to date with further analysis as new information emerges. Monitor issuers / custodians / exchanges for official announcements.
Finally, if you are a US person with funds in Tornado: don't break the law, the money isn't worth it.
Please share this thread widely so others can start to figure out the repercussions for their personal and business situation.
For the full thread plus reactions and replies, click here:
NB: Nitter = Twitter without trackers
2. Following the initial notification, the decentralized privacy-focused ecosystem developer, Particl Project, weighed in with some salient observations:

We can be sure this crackdown on privacy will not stop with Tornado.
Particl remains convinced that strong encryption and distributed systems will ultimately create the environment needed to resist this control, by empowering individuals to opt out of the legacy financial system.
3. The repurcussions expanded at an alarming rate for both businesses...

Circle just frozen 75,000 USDC belonging to unsuspecting Tornado users, as well as 149 USDC donated to the project.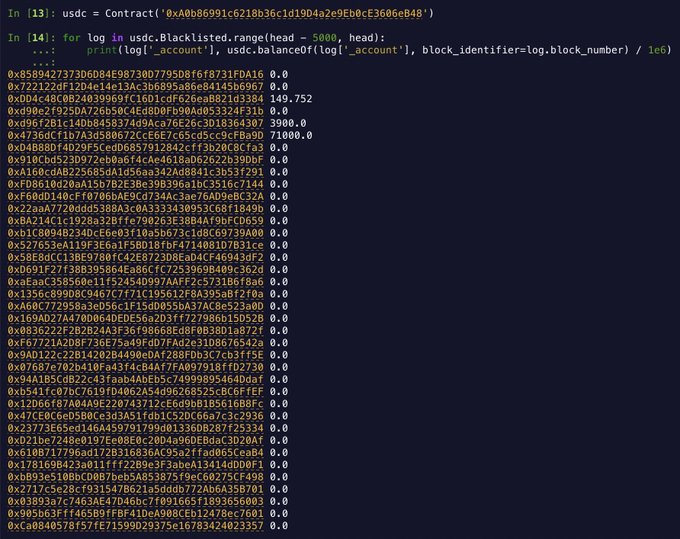 4. ...and individuals

My @GitHub account was just suspended
Is writing an open source code illegal now?
Lefteris Karapetsas | Hiring for @rotkiapp@LefterisJP
This sucks and is terrible. But once they put tornado on SDN list absolutely expected.
No US company can do business or provide services to you.
Which pinpoints how centralized github is.

I'm personally not on SDN list, only tornado cash smart contracts and website areShow replies
Damn wtf

UnterseeBankofSwitzerland@UnterseeS
LAWYER, REPRESENT THAT MAN!
This is ugly, folks, and unlikely to be resolved any time soon.
💡
We publish daily doses of decentralization news every day and update on
Mastodon
,
Twitter
,
Telegram
and
Element
(Matrix). Please like & share our output. We rely on you for content, so why not
write
for us. We welcome sponsorship and
donations
to help us continue our work - all major cryptos accepted or buy us a coffee. Contact us at blog@decentralize.today - many thanks for all donations received, much appreciated.