When it comes to mobile browsers, most people go with the pre-installed version. In iOS that is Safari and in Android usually Chrome. That is, of course, the wrong approach when it comes to privacy. Chrome is still even present in webview if you are not rooted or on CalyxOS or even GrapheneOS.
I don't want to go into what browsers you should use on iOS vs Android we have that well covered in other Privacy Cookbook entries, especially chapter 5. So today we'll look at Iceraven/fennec or Mull, which is my browser of choice for Android.
You can find Mull easily enough, it was a privacy fork off Firefox and available on F-Droid. The problem with Firefox-based browsers tends to be the add-on collection. Since Firefox 80.0 Mozilla removed the ability to house the entire add-on collection within your browser's add-ons section. In other words, you are limited in what Mull, Fennec and co. can give you as their collections are pre-installed.
A simple solution is to create a collection in your Mozilla account.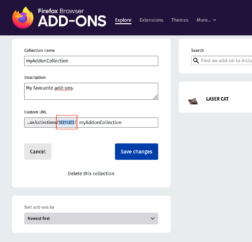 NOTE! If you install Firefox from Google Play, you will not have the option to integrate your collection. Download Mull or Fennec from F-Droid in order to do so.
Of course, the Privacy Cookbook wouldn't be the Privacy Cookbook if we didn't show you how to create your own collection. We've got you covered!
Open Settings on your browser:
About Fennec/Iceraven/Mull
click 5x on the logo
You should see the following message:
Debug menu activated
Go back to settings, and you should now see Custom Add-on Collection
Enter your own collection, or ours 17014436 with the collection name dtgl
We have added privacy-focused add-ons like Privacy Redirect, uBlock Origin and many others.
You can now select under Add-ons what you would like to install and obtain a more private setup than Chrome would give you straight 'out of the box'.
And consider Bromite as your possible second browser on Android.
Stay safe and stay private!
💬
We publish a daily dose of decentralization here every day (UTC+8), for additional daily updates follow us on Mastodon, Twitter, Telegram or Element(Matrix). Please like & share all our output. We rely on User-Generated Content so why not write for us and since we try to avoid ads and sponsorship, why not donate to help us continue our work - all major cryptos accepted. You can contact us at decentralize.today and at blog@decentralize.today