Updates from:
AdGuard - Tutanota - Protonmail
---
EasyList is in trouble and so are many ad blockers
21st October Update: Thanks to Cloudflare, the problem with servers overload was resolved. However, the origin of the issue is still unclear.
You may not be aware of it, but the work of every ad blocker is powered by "filter lists" — lists of rules that tell the ad blocker how exactly it should block ads. EasyList is a community-run project that maintains one of the world's most popular ad blocking filter lists.
There are many popular lists (AdGuard filters is one of them), but EasyList has always stood out as the most prominent and the most popular one. If you're using an ad blocker, there's a 99.99% chance you are using EasyList or one of its derivatives.
At its core, EasyList is basically just a text file available at the following address: https://easylist.to/easylist/easylist.txt. However, if you try to download this file now, you'll see that it takes about 5 minutes to do so, even though the file size is not that big.
What happened
A couple of weeks ago EasyList maintainers saw a huge spike in traffic. The overall traffic quickly snowballed from a couple of terabytes per day to 10-20 times that amount. The source of that dramatic surge, it turned out, were Android devices from India. This whole situation rang a bell with us, because last year we had to grapple with the very same problem. Last November, our bandwidth usage shot up through the roof for no good reason. After investigating the issue, we found out that two apps with ad-blocking functionality were abusing our servers.
What happened to us bears a striking resemblance to what is now crippling EasyList:
There's an open source Android browser (now seemingly abandoned) that implements ad-blocking functionality.
This browser is forked by a couple of other browsers that are very popular in India.
The problem is that this browser has a very serious flaw. It tries to download filters updates on every startup, and on Android it may happen lots of times per day. It can even happen when the browser is running in the background.
When we encountered a similar problem last year, we found a simple solution: block the undesired traffic from these apps. Even so, we continue to serve about 100TB of "Access Denied" pages monthly!
EasyList is hosted on Github and proxied with CloudFlare. Unfortunately, CloudFlare does not allow non-enterprise users use that much traffic, and now all requests to the EasyList file are getting throttled.
EasyList tried to reach out to CloudFlare support, but the latter said they could not help. Moreover, serving EasyList actually may violate the CloudFlare ToS.


(The screenshot of the message was passed to me by one of EasyList maintainers)
So, the bottom line is this:
Many ad blockers cannot download filters updates because EasyList is throttled.
EasyList may need to change the domain name. These faulty browsers will DDOS any hosting EasyList chooses as long as they continue to use the easylist.to domain.
Are you affected?
AdGuard re-hosts all filter lists on its own servers, so if you use our apps or browser extensions this problem doesn't affect you directly.
If you use a different ad blocker, then there's a high chance that it has already switched to a mirror domain or that it will do so soon. But what happens when these browsers notice that issue and start DDoSing the new address?
It's unclear what EasyList should do now. It is a community project supported by volunteers, and it cannot afford to pay for the enterprise CloudFlare plan. Should they start accepting donations for their invaluable work to fund hosting? This is easier said than done. They can change the domain name, but it is a rather painful procedure that will affect many other open source projects that rely on EasyList (and there are literally hundreds if not thousands).
If you're a security researcher and can help find these Android browsers that DDoS EasyList and AdGuard filters, your help would be greatly appreciated. Last time we found two such browsers and contacted developers, but the issue was not resolved and even got worse, so probably there are more out there. Look for the ones that constantly download one of these three files:
https://easylist.to/easylist/easylist.txt
https://filters.adtidy.org/extension/ublock/filters/2_without_easylist.txt
https://filters.adtidy.org/extension/ublock/filters/11.txt
---
@Tutanota@mastodon.social
Do you spot the trick?
This is a cookie banner shown before using Google search in some countries.
"Reject all" is a straightforward option. It appears in the same size and color as "accept all." It uses bullets, simple and concise language, and visualization. It has links for further info. So far, so good.
But there is a trick. Do you spot what is it?
#privacy #cybersecurity #securityawarenessmonth #google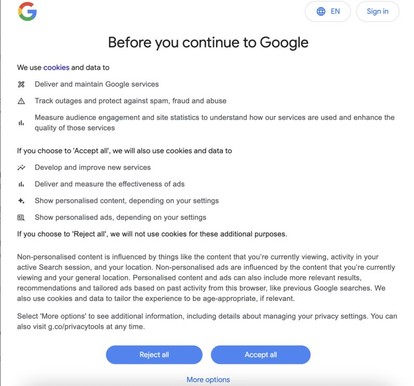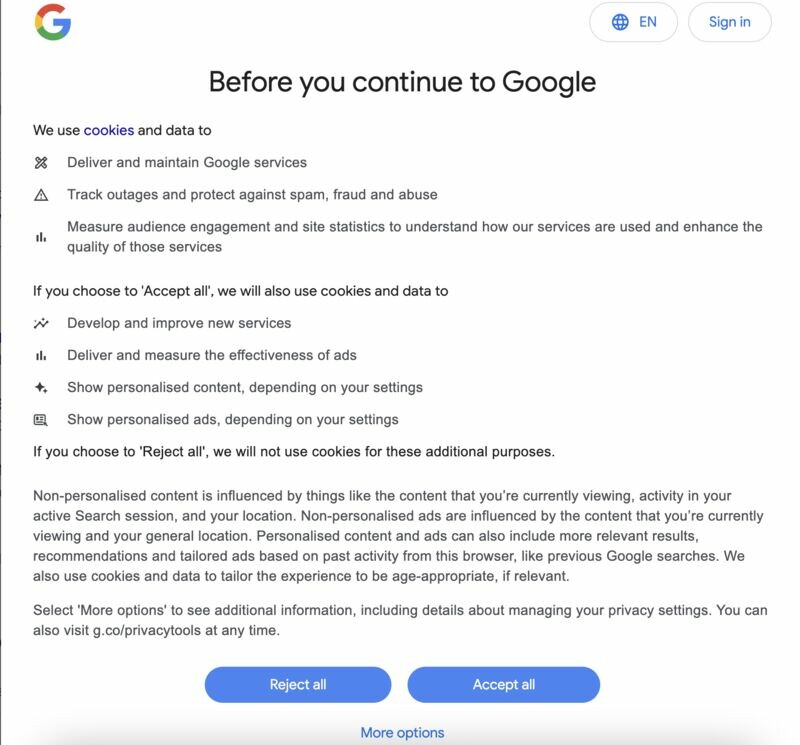 ---
Many of you have asked for more detailed product roadmaps. Today, we're sharing the public #ProtonDrive roadmap for the next months. New functionalities and improvements are coming to our encrypted file storage, as well as support for more platforms.
The Proton Drive roadmap
October 20, 2022
In September 2022, we were excited to launch Proton Drive and introduce the first standalone Proton Drive paid plans. As with all the services we've rolled out over the years, we know the launch is just the first step. The real work is in the continual improvements, advancements, and added features that follow. Building an encrypted file storage service is not easy, particularly one that uses end-to-end encryption on both your files and file metadata like Proton Drive.
Many of you have asked us what is next for Proton Drive, and today, we wanted to share with you a short-term roadmap of what you can expect in the coming quarters. Of course, we also have longer-term roadmaps. We look forward to sharing those and keeping you updated on the latest developments as Proton Drive progresses.
Proton Drive on mobile
In August 2022, we released the early access versions of the Proton Drive apps for Android and iPhone, which the Proton community greeted with great excitement. You filled the 15,000 early access slots we had for our Android app within a day of the release. Thanks to your assistance and feedback, we should be able to release the Proton Drive app for Android and iPhone to the general public by December.
Proton Drive on desktop
The Proton Drive team is currently working on two new apps: standalone desktop apps for Windows and macOS.
The Windows app is further along in the development cycle, and we plan on releasing an early access version of the app to a limited number of beta testers before the end of 2022.
There's more to do before the macOS app is ready, but we've targeted releasing an early access version to a limited number of beta testers in the first half of 2023. Pay attention to our social media channels and this blog for more details on how to help beta test the Proton Drive Windows and macOS apps.
We're currently focusing on creating apps for all major devices and building out the core feature set of those apps. Our priority is to make sure we have an app for every major device that can:
Securely store, share, and manage files and folders
Preview images, PDFs, and clips directly within the Proton Drive app
Sync and backup local files with the online Proton Drive, all with end-to-end encryption
Once we've developed apps with these core features, we will begin to add features that improve the user experience and app usability, such as encrypted search and different collaboration capabilities.
Building a better internet
The development of Proton Drive is the next phase of building out Proton's encrypted ecosystem, and it brings us one step closer to a better internet where privacy is the default. This work wouldn't be possible without the over 500,000 members of the Proton community who have tested or are currently testing early access versions of Proton Drive.
As we've said before, Proton would be nothing without the Proton community. Your support helped us get our very start and has powered our growth from a small email provider to an entire encrypted ecosystem that serves tens of millions of people worldwide. Thank you.
If you have questions or feedback about this roadmap, we want to hear from you! We take your feedback seriously and use it to make sure we deliver an encrypted cloud storage service that meets your requirements. Contact us on Facebook, Twitter, or Reddit, and let us know what you think.
💡
We publish daily doses of decentralization every day and boost out on
Mastodon
,
Twitter
,
Telegram
, Tribel and
Element
(Matrix). Please like & share our output. We rely on you for content, so why not
write
for us. We welcome sponsorship and
donations
to help us continue our work - all major cryptos accepted or buy us a coffee. Contact us at blog@decentralize.today - many thanks for all donations received, much appreciated.