EXPOSED! is a weekly series that decentralize.today runs that looks to unveil the dirty dealings of corporations, individuals and governments, often in collusion with each other. In this edition, we look at recent events regarding national security breeches in the USA.
Reality Winner was a former National Security Agency (NSA) contractor jailed for leaking a document about Russian hacking in the 2016 US Presidential election.
She was arrested and convicted in 2017 and then released in June 2021 on good behavior, after four years of incarceration.
Winner maintains she is "not a traitor" and had leaked the documents "out of love" for her country.
She was accused and convicted of mailing top-secret NSA information to the media outlet, The Intercept.
However, Betsy Reed, the editor-in-chief of The Intercept, commented:
"Selective and politically motivated prosecutions of leakers and whistleblowers under the Espionage Act – which dramatically escalated under Barack Obama, opening the door for the Trump justice department's abuses – are an attack on the First Amendment that will one day be judged harshly by history."
The classified document detailed Russian government efforts to hack a Florida-based US voting software supplier.
Winner said she thought something was amiss after watching then President Donald Trump attempt to sow doubt about whether Russia had influenced the 2016 election.
"I just kept thinking, 'My God, somebody needs to step forward and put this right. Somebody'"
"I knew it was secret. But I also knew that I had pledged service to the American people. And at that point in time, it felt like they were being led astray"
Winner added, in an interview with CBS that she "meant no harm and "did not betray" the US' "sources and methods" of obtaining intelligence by leaking the document.
"It only filled in a question mark that was tearing our country in half in May 2017"
"I've had four years of just trying to say I'm not a terrorist. I can't even begin to talk about my actual espionage indictment. Or have a sense of accomplishment in having survived prison"
She added that she felt "stained" by the accusations that labeled her as part of the same groups she had enlisted in the Air Force to fight against.
---
In simplistic terms, she broke the law and paid the price.
However, the Mar-a-Lago raid opened the whole can of worms again and commentators, rightly, had a field day online...
Billie J. Winner-Davis@bjwinnerdavis
What's the difference between the espionage charge used on #RealityWinner vs Trump?  Reality acted in our best interest to defend and protect democracy. They persecuted her for 1 single document.
7:37 PM · Aug 13, 2022·Twitter for Android
---
---
Reality Winner was sentenced to 5 years for leaking ONE document in violation of the Espionage Act
Trump stole nuclear secrets, 11 sets of classified docs and 20 BOXES worth of our nation's most sensitive intel
May he be prosecuted and punished to the ends of the Earth
She did this to protect us from the Russians
Trump did this to enrich himself at the hands of our foreign enemies
BREAKING: FBI recovered 11 sets of classified documents from Mar-a-Lago -- including Top Secret documents -- and 20 boxes overall.

I don't have the slightest clue what the FBI found at Trump's home or why Trump is hiding the warrant from us.
But the fact that it's "believable" that Trump would or could take sensitive classified documents and potentially sell them is mind blowing.
Sir, it's a night club
---
And in a wonderfully ironic moment, it transpired that the penalty for the offense had been increased to five years imprisonment by...one Donald J. Trump, largely as a typically knee-jerk reaction to the Reality Winner case!!

Occupy Democrats@OccupyDemocrats
BREAKING: Experts reveal that Donald Trump could face five years in prison if he's found guilty of mishandling classified information — ironically because he signed a law in 2018 that made such an offense a felony.

By his own self.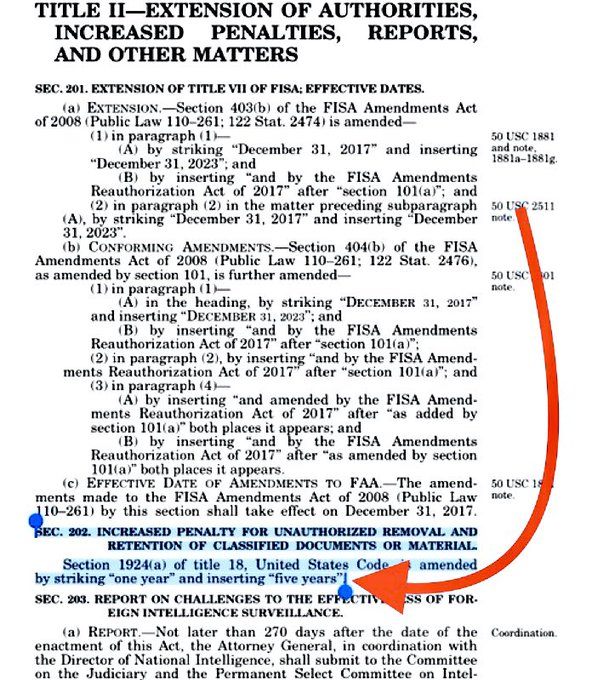 It should carry life!!
---
Seriously...this is mind blowing!
Related Links
😃
We publish daily doses of decentralization news every day and update on
Mastodon
,
Twitter
,
Telegram
and
Element
(Matrix). Please like & share our output. We rely on you for content, so why not
write
for us. We welcome sponsorship and
donations
to help us continue our work - all major cryptos accepted or buy us a coffee. Contact us at blog@decentralize.today - many thanks for all donations received, much appreciated.