Headlines and highlights from a rollercoaster week in Crypto!
Thread 1

1/ New blog: Here's the on-chain look at what's happening in crypto markets during one of the wildest weeks in industry history.
blog.chainalysis.com The State of Crypto Markets After An Extremely Hectic Week - ChainalysisThis week has been one of the wildest in crypto history. The future of FTX, one of the world's largest exchanges, is now in doubt as7:52 AM · Nov 11, 2022·Twitter Web App11 Retweets3 Quote Tweets19 Likes

2/ FTX, one of the industry's largest exchanges, appears to be on the brink of collapse.
Its native FTT token has plummeted 84%, and other major cryptocurrencies have also seen significant price declines.

3/ The market is in flux, and it would be pointless to try and make short or medium-term predictions right now.
But what we can do is use on-chain data to assess how the market is reacting and look for signs of on-going risk.
Here's what we're seeing.

4/ First, we look at exchange inflows.
Centralized exchanges are where users trade and cash out, so in times of volatility, we'd expect to see more funds moving there.
But so far, we've seen surprisingly little change in inflows given the state of the market.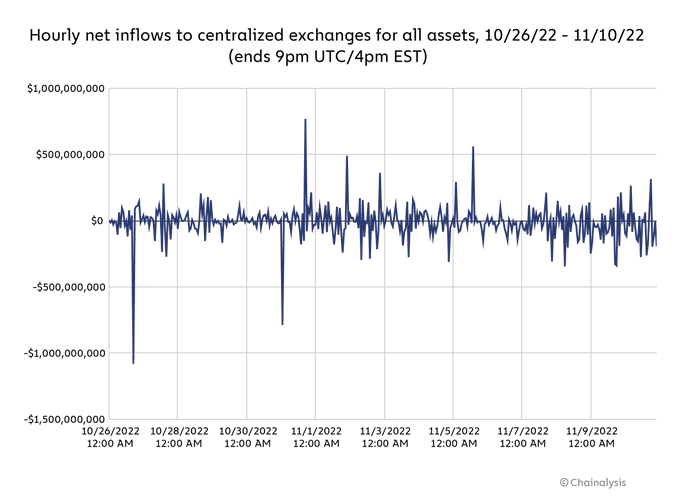 5/ Next, we look for evidence of investors fleeing the volatility of crypto.
They can do this without off-ramping by swapping for stablecoins, or they can do it by cashing out and exchanging their crypto for fiat.
Let's look at both.

6/ Here is the 24hr rolling average of transaction volume by asset type.
Indeed, we see a big spike in stablecoin volume on 11/7 when rumors of FTX trouble ramped up.
Those investors may be temporarily stabilizing their holdings and can easily swap back into crypto any time.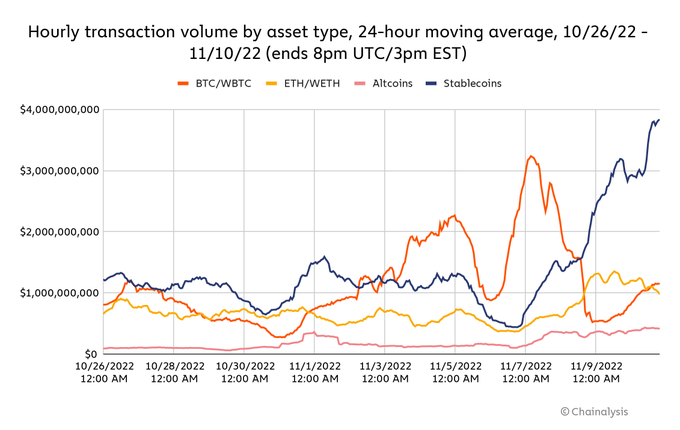 7/ @KaikoData order book data shows a similar but less pronounced increase in crypto-for-USD swaps on roughly the same timeline.
Investors cashing out may be intending to sit out of crypto for the long term, or even indefinitely, but the numbers overall don't indicate mass panic.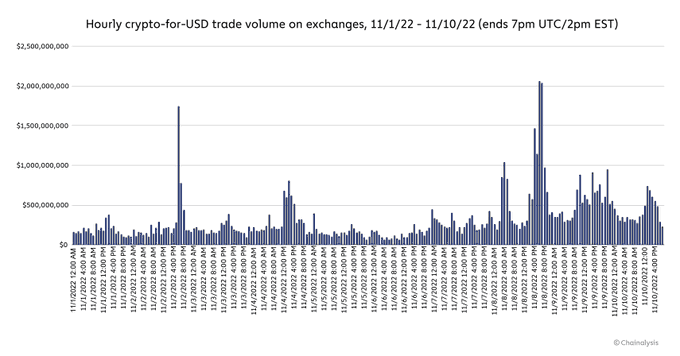 8/ There's no sugarcoating it: The potential collapse of an industry stalwart like FTX is bad for crypto, and the market reflects that.
But the industry has survived events like this before and emerged stronger.
We know it will again.
For now, we'll keep monitoring for updates.
---
Thread 2

1/ We'd like to provide updates on some of the market indicators we're watching following the collapse of FTX last week.

2/ Overall, while other firms may face insolvency, many market fundamentals remain stable.
Reporting suggests the FTX situation stems from financial fraud rather than a blockchain or crypto-specific failure.

3/ First, the increase in crypto-for-USD trades we observed last week using @KaikoData exchange order book data has died down.
Users now appear to be cashing out of crypto at roughly the same rates they were before the FTX crisis.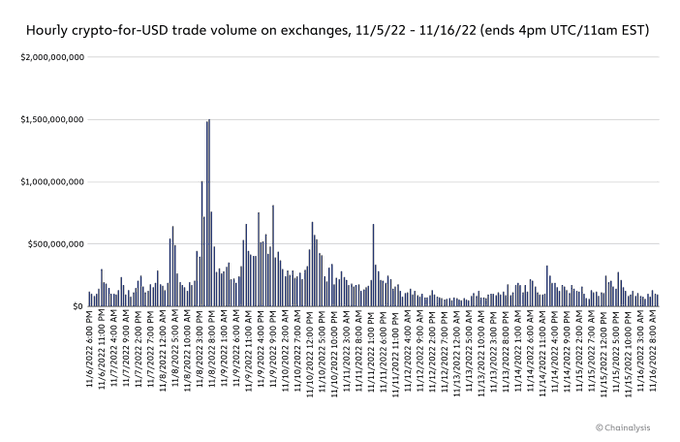 4/ After staying mostly flat last week, net inflows to centralized exchanges have dropped, and are below zero in most hours, meaning users are withdrawing more than they're depositing.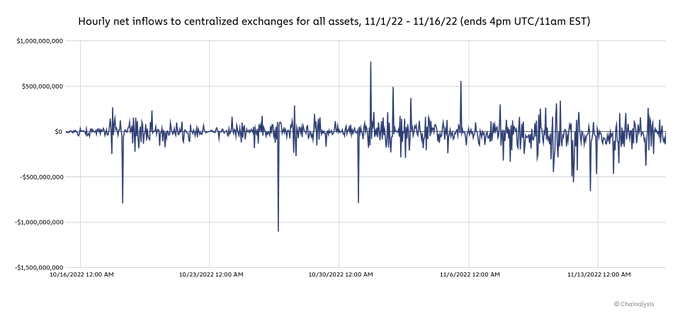 5/ Where are those funds going when they leave centralized exchanges?
Mostly to other centralized exchanges.
But we've also seen spikes in funds sent to personal wallets for safekeeping (of course, they can always move again), and to DeFi protocols.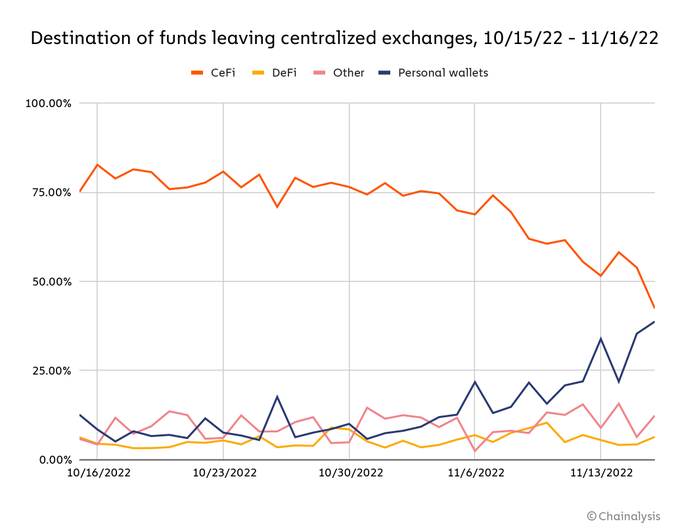 6/ The increase in funds sent to DeFi is especially interesting, as many have reported huge spikes in DEX trading volumes in what's being framed as an embrace of self-custody.
Our data confirms that DEX transaction volume has indeed increased.
But there's more to the narrative.


7/ CeFi-to-DeFi flows have increased, but they're not the driving force behind DEX tx volume growth.
Roughly 90% of funds going to DEXes are coming from other smart contracts.
Since November 12, the second-biggest source is a single MEV bot.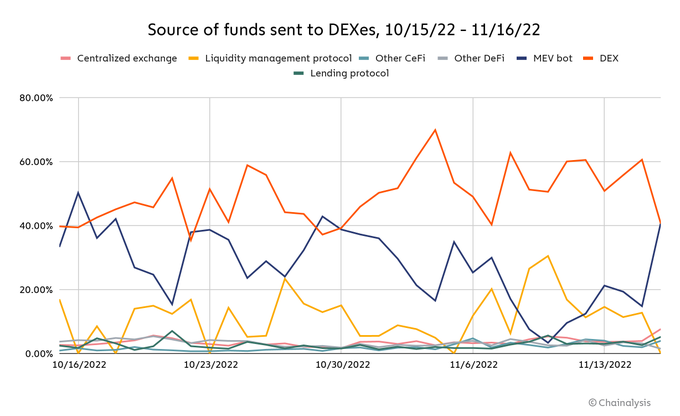 8/ For context, MEV bots are programmed to scan pending transactions in the Ethereum mempool, identify profitable ones, and execute them before the originals can be confirmed to the blockchain, thereby extracting the value for themselves.

9/ This particular MEV bot has sent just under $19 billion to DEXes since November 4, making it the third-biggest source of funds sent to DEXes among all smart contracts.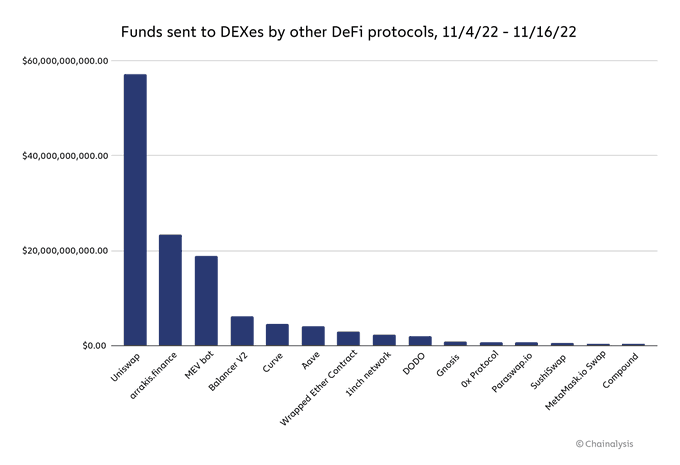 10/ Overall, the data suggests that the DEX trading spike isn't primarily driven by inflows from CEX users looking to self-custody.
Rather, it's driven by existing DeFi users trading on the volatility in the market, and one industrious MEV bot attempting to front-run them.

11/ We'll continue to monitor for updates and share as much as we can.
---
💡
We publish daily doses of decentralization to over 3900 regular visitors, and boost out on
Mastodon
,
Twitter
,
Telegram
, Tribel and
Element
(Matrix) to over 4200 daily followers and growing! Please like & share our output. We rely on you for content, so please
write
for us. We welcome sponsorship and
donations
to help us continue our work - all major cryptos accepted or maybe buy us a coffee. Contact us at blog@decentralize.today - many thanks for all donations received, much appreciated.