Most Sundays, we have more recently posted a longer article or podcast as part of the Sunday Long Read or Listen series. Today, in a first, we are running our first ever Sunday Long Tweetstorm with 30+ entries on the differences between BTC and Web3 and why it matters.
#Bitcoin = definancialization
Web 3 = hyperfinancialization
These are two distinct ways of approaching and building  for the future.
And the implications are massive and far-reaching.
The good news is we have a choice.
Too often the criticism of "Web 3" from Bitcoiners resorts somewhat shallowly (and reflexively) to simply calling everything a scam or a Ponzi, when there are, in my opinion, much deeper criticisms of Web 3 to be lodged.
I want to dive in to why I think Web 3, as currently conceptualized by many of its most vocal and deep-pocketed advocates is, despite a veneer of egalitarianism, directionally aimed at a future that is, in real human terms, pernicious and extractive.
I recently listened to a podcast in which the guest, representing an entity heavily invested in the development and growth of Web 3, spoke in hopeful, optimistic tones about why we're going to see the "securitization of everything" and why that will be great.
The future he envisions is one in which pretty much everything exists and is tradable on-chain, and this future was gushed about as an exciting and important leap forward for markets and their participants.
I've spent a lot of time thinking about the implications of this securitize-everything vision of Web 3, and there are, IMO, much more useful questions to be asked about Web 3 that lead us to more salient and persuasive criticisms than "it's a scam!"
That being said, there is of course a panoply of overt, brazen scams in the wider world of crypto.  The wider crypto space is practically teeming with scams, charlatans, dilettantes, and dissemblers.
And there are certainly a glut of projects with no real practical use case.
But I would argue further that a future in which Web 3 achieves what proponents profess it will achieve, i.e. a world in which everything is on-chain, securitized, and tradable, is not a desirable future, for reasons that get in to what makes us human and how we pursue meaning.
It will cost more than we know, and this cost will be extracted from, among other areas, our collective capacity to ascribe non-financial meaning to experience, our ability to coordinate and cooperate for non-financial reasons to achieve non-financial ends, our creative ability to transfigure our suffering, and our ontological drive to reach beyond ourselves for something enduring and beyond the pale of markets.
There is a toll for hyperfinancialization.
The most common bull case for Web 3 I hear is = democratization technology that, by virtue of its existence and growth, disempowers monopolistic big tech companies while simultaneously giving that power back to users and creators.
One is invited to imagine a world in which we, not Instagram, own all our content; a world in which artists can liberate themselves from the oppressive grip of Spotify by incorporating NFTs into their creation of music, or using NFTs to share ownership in their music.
Ditto for visual artists and ability to reap royalties from secondary transactions.
The promise of DAOs, the argument goes, is decentralized organization that allows for powerful democratic coordination, the profits of which can be distributed w/o oustized cuts to intermediaries.
It all sounds pretty radical and subversive and can certainly be pretty competently pitched as revolutionary.  
But I think we can and should ask some pointed questions that reveal the speciousness of some of these claims.
First, with respect to the democratization claims...
I think Web 3 is effectuating a kind of democratization, but not the kind its advocates are referring to.
W/o constraints on supply of money, both in fiat and in a parallel system of crypto, the underlying monetary dynamics that -> ever-increasing cost-of-living don't change.
In fact, I think there are arguments to be made that, at a certain point, such a parallel system, to the extent it leaches productivity from necessary, real-world industries, will actually exacerbate problems like inflation.
Web 3 in its present form is not "software eats the world" or "crypto eats the world," nor is it "code eats the world" or any other pithy pitch-deckism. It's "markets eat the world."
Markets will seep into the very marrow of our lives.
Every activity one does, every interest one has, every minute of one's day will be, in some way, financialized or financialize-able.
Sure, this is a democratization of sorts, in the sense that in a world where everything seems to be getting more expensive and more unstable we will have a seemingly infinite amount of ways to keep up, monetarily.
But it doesn't fix the underlying problem. It just opens up new ways to attempt to live with the underlying problem, which isn't particularly revolutionary at all.
Moreover, I'm not sure making everything tradable in a liquid market leads to increased human fulfillment, belonging, or sense of meaning.
We already spend so much time thinking about $, about how to get more of it, how to pay for housing, how to afford childcare, how to send children to college, how to pay off loans, how to save for retirement, all of which is  made worse by structural dynamics of fiat currency.
The overwhelming majority of people feel as though they're on a treadmill, the speed of which is regularly and unrelentingly turned up.  This feeling of being pressed all the time is, inarguably I think, deleterious to human flourishing.
Energy that could be channeled into relationships, family, occupational expertise, serious scientific endeavor, artistic creation, etc. must, by necessity, be directed toward not falling off the proverbial treadmill.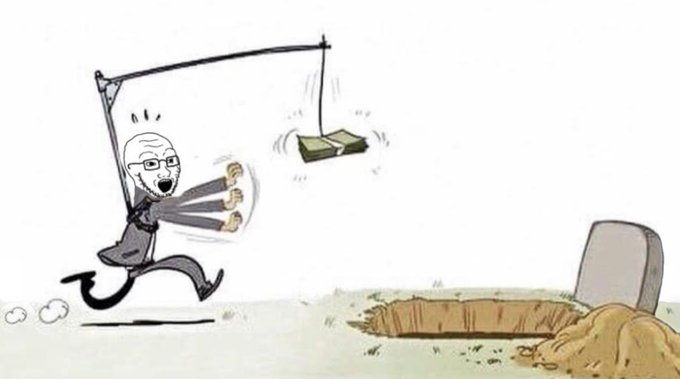 This is why it's worth fixing the concept of savings, b/c when everyone is forced to be a full-time investor or speculator on the side to preserve the value of $ into the future, we are forcing a misallocation of energy and life-force. This is fiat.
(See a separate TWEETSORM on this topic by the same author here, next Sunday).
Web 3 does absolutely nothing to fix this fundamental problem.  
What it does is turn the treadmill knob up another notch while offering a plethora of new ways to monetize every part of your existence to cope with said adjustment.  
In other words, it hyperfinancializes the world.
Some nuance.
Do I think the econ. reality for artists/creators under the current system is untenable?
Yes.
Do I think big tech is too powerful?
Yes.
Do I think the future of work is going to be different?
Yes.
Do I think Web 3 offers a solution that doesn't come w/ a litany of downstream effects?
No.
Am I willing to change my mind if presented w/strong evidence?
Yes.
So while Web 3 seeks to hyperfinancialize the world, #Bitcoin seeks to do the exact opposite.
Bitcoin forces definancialization.  
To extend our treadmill metaphor, Bitcoin seeks to slow it down.
The promise of #Bitcoin is a world in which one can provide value and be compensated with money that doesn't lose its value, meaning one can, but is not required to, invest or speculate.  
This means less time obsessing over money.
This man is a walking ad for BTC, see this subsequent tweet thread on how and why it makes things better...
💡
We publish daily doses of decentralization news every day and update on
Mastodon
,
Twitter
,
Telegram
and
Element
(Matrix). Please like & share our output. We rely on you for content, so why not
write
for us. We welcome sponsorship and
donations
to help us continue our work - all major cryptos accepted or buy us a coffee. Contact us at blog@decentralize.today - many thanks for all donations received, much appreciated.