By @AnilSaidSo
Selection no 9 from @AnilSaidSo's Bitcoin primer collection
When explaining the significance of bitcoin to precoiners, I've found it helpful to  use the views of people they already trust and respect.   So here's a compilation of some of the brightest minds in tech, networks and investing on bitcoin.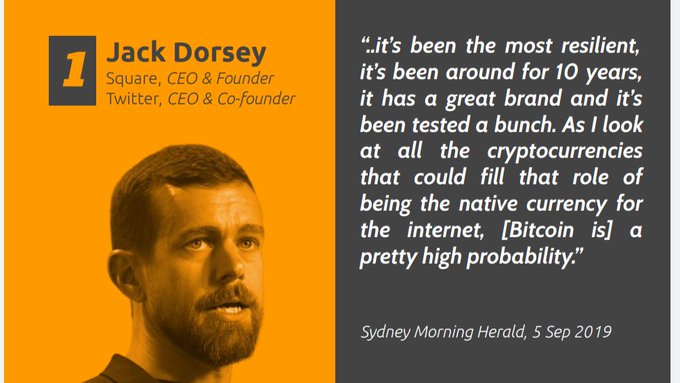 Perhaps best positioned to fully understand the evolution of digitally transacting value is @jack. The dual CEO of two multi-billon dollar companies with 100m+ combined users, Dorsey once stated he was personally acquiring $10k of BTC per week.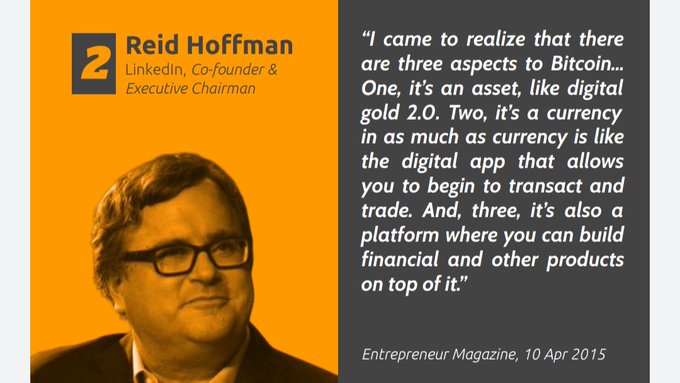 With a net worth in the region of $1.9bn, the co-founder of LinkedIn, member of the PayPal mafia and now partner at @GreylockVC has acknowledged he owns bitcoin. More recently, he was behind the Satoshi vs. Hamilton rap battle video.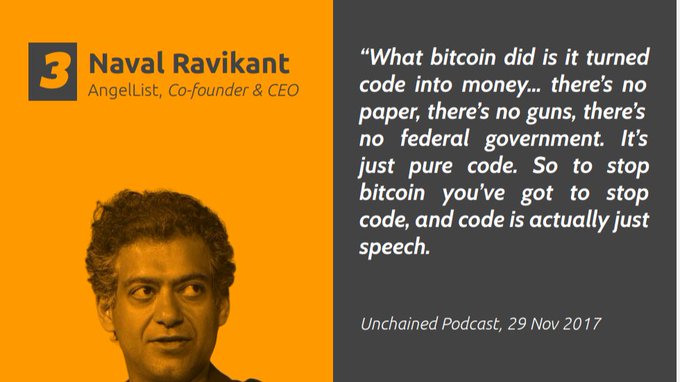 The Angel Philosopher (a.k.a @naval ) has been offering some of the most insightful commentary on bitcoin since 2013. As an early investor in Uber, twitter and producthunt, Ravikant has exposure to bitcoin through Metastable Capital.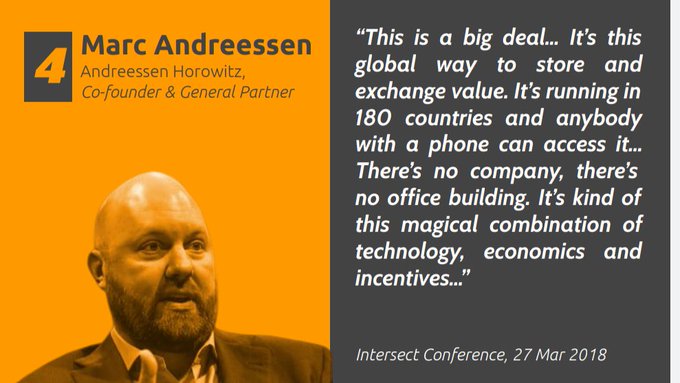 The co-founder of Netscape and @a16z , Andreessen serves on the board of Facebook, eBay and Oculus VR. In 2014, he penned the now famous NYT op-ed 'Why Bitcoin Matters' referring to bitcoin as a 'breakthrough in computer science.'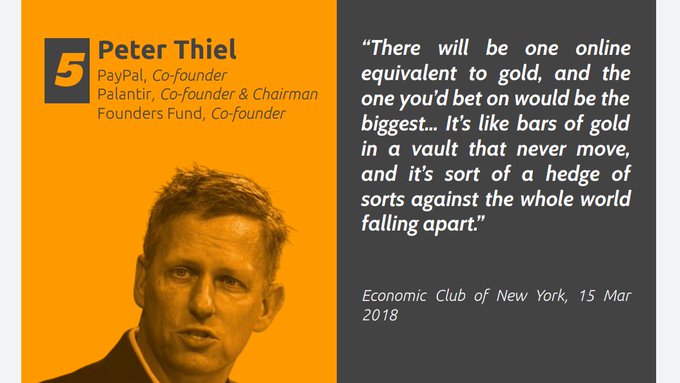 Co-founding PayPal '88, parallels are often drawn between its original vision & btc. The WSJ reported in 2018 that Thiel's Founders Fund acquired $15-20m of bitcoin in mid-2017. He's also an investor in Layer1 which is focused on mining bitcoin w renewable energy in the US.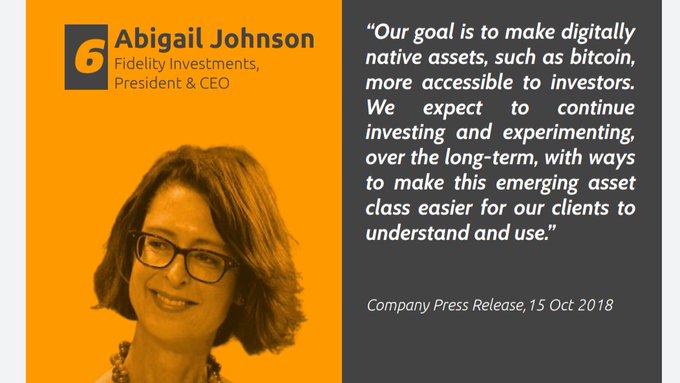 With ~$2.5trn in customer assets under management, Johnson has been opening up the legacy giant to playing in the digit assets sphere, making venture investments in bitcoin-related businesses and mining it internally for educational purposes.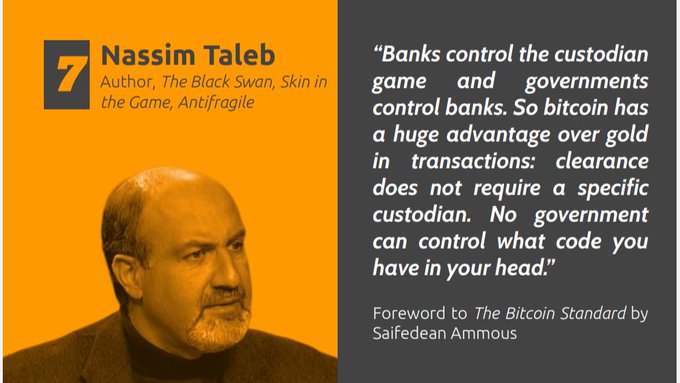 Statistician, former options trader, essayist and author. Taleb's books are recommended by some of the greatest rationalists of our era. His essay on bitcoin, which features as the forward to @saifedean 's The Bitcoin Standard, is here.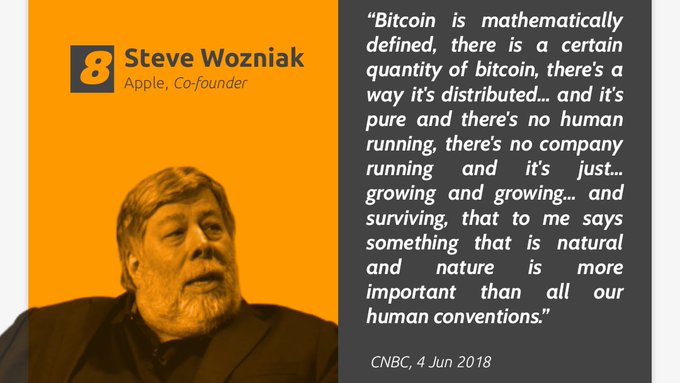 Woz stated that he first purchased some bitcoin at $700, though for never specifically as an investment. He still regularly experiments with bitcoin and related hardware.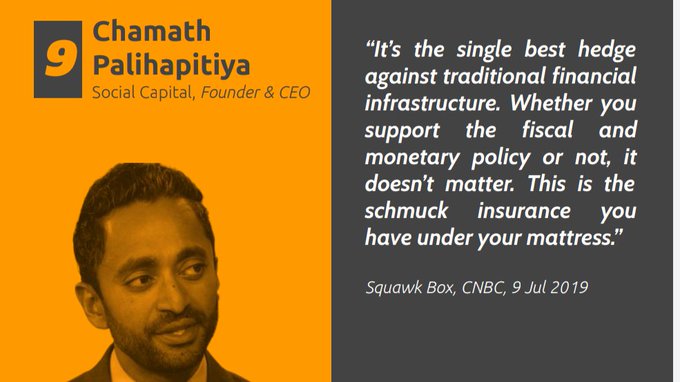 Former Facebook exec turned VC, Palihapitiya co-founded Social Capital in 2011. His fund has since exited Slack, Box and SurveyMonkey. In 2013, in conjunction with two partners, he claimed to have held 5% of all bitcoin in circulation.
Legendary portfolio manager Bill Miller (@B3_MillerValue ) is perhaps best known for beating the S&P every year between 1991-2005. Calling himself a 'bitcoin observer', Miller's firm holds bitcoin, viewing the asset as a binary option.
About the author
Anil is an independent bitcoin educator based in Canada. He holds an MBA, CBP and was part of MIT's inaugural FinTech certificate cohort. He's guest-lectured at Business schools and launched the first Bitcoin-specific university scholarship in Canada. His focus is on simplifying concepts through visuals and storytelling to make bitcoin easier to comprehend.
You can follow him on Twitter @anilsaidso
You can pre-order his book representing approximately 3,000 hours of research, teaching, writing and design in an effort to best communicate Bitcoin as a concept.