TOOTSTORM is a very occasional feature on decentralize.today where we share threads from Mastodon that we think deserve a wider audience, some are informative, some educational, some amusing and others yet are controversial...we dig these out for you so you don't have to!
---
In Jan 2020, Google announced it will 'phase out' third-party cookies in Chrome, and thus opaque marketing surveillance across myriads of companies, 'within two years'.
In Jun 2021, it said it will 'end' doing so in late 2023.
Now it says it may 'begin' doing so in late 2024.
It should have been done so many years ago.
Since then, billions and billions of profits for Google, and for thousands of shady data companies who have been secretly trading digital profiles on billions for years, perpetuating a predatory and broken digital economy.
Google is evil.
Since 2020, I heard often that going after commercial personal data misuse based on third-party cookies wasn't worth it anymore. It'll be gone soon!
The announce/postpone strategy was highly effective. Civil society, policymakers and regulators got played.
GDPR enforcement now.
Google also exploited competition concerns very well. Regulators shied away from pushing G into the corner. Instead of helping G argue postponing the end of third-party cookies they could have demanded it while strictly banning G from taking control and utilizing the data itself.
Third-party cookies enable massive personal data sharing across many firms.
In 2021, I examined how just a few visits to 2 websites lead to an ongoing exchange of personal identifiers that many data brokers use to follow+profile everyone across the web:
https://nitter.net/WolfieChristl/status/1488168017729138689
G has long enabled and benefited from uncontrolled personal data business across myriads of shady companies. Also, it is afraid that cutting them off will expose it to competition concerns even more.
This is a catch-22 for G. Policymakers and regulators shouldn't help it escape.
Mobile is even worse, also bc more invasive.
G cannot be solely blamed for the decade-long misuse of browser storage for cross-site tracking, but it must be held accountable for determining the means+purposes of data sharing relying on GAID across myriads of apps and businesses.
A JSless, cookie-free experience is what's needed.
Markdown Transfer Protocol, MDTP, and Markdown or AsciiDoc based pages.
For security places like banks, use HTTPS-loaded WASM-based applets to nativize the payload and clear all its data upon finishing xfer.
Or abolish web banking and admit we all got played by the "convenience" of online banking/shopping and use MDTP alone, dumping all this HTTPS horsecrap?
Teekse @meet_judith@chaos.social
@wchr you're absolutely right. But in my opinion there should be put more effort in explaining people why it makes google not a nice and aware company even if they end this third party cookie stuff. The can end it, because there are other ways of harvesting peoples data.
Original posted on Mastodon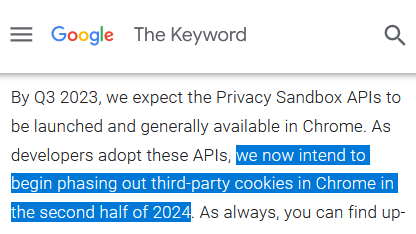 😃
We publish daily doses of decentralization news every day and update on
Mastodon
,
Twitter
,
Telegram
and
Element
(Matrix). Please like & share our output. We rely on you for content, so why not
write
for us. We welcome sponsorship and
donations
to help us continue our work - all major cryptos accepted or buy us a coffee. Contact us at blog@decentralize.today - many thanks for all donations received, much appreciated.