TWEETSTORM is an occasional feature on decentralize.today where we share threads , mostly from Twitter, that we think deserve a wider audience, some are informative, some educational, some amusing and others yet are controversial...we dig these out for you so you don't have to!

Here's why I believe the market is missing the true significance of @Elonmusk reconfiguring Twitter's funding model into one that isn't dependent on you being the product.
If he succeeds, and I suspect he will, it could upend two-sided pricing in the digital economy

This is a big deal because the two-sided paradigm has been unconsciously obscuring the true cost of digital services for nearly two decades now.
These systems were never really free.
They came at the cost of independence.

I first wrote about this risk in November 2016.
I predicted at the time that the democratic deficit incurred by these structures would eventually blowback in a big way.
https://ft.com/content/016e898c-b0a5-11e6-a37c-f4a01f1b0fa1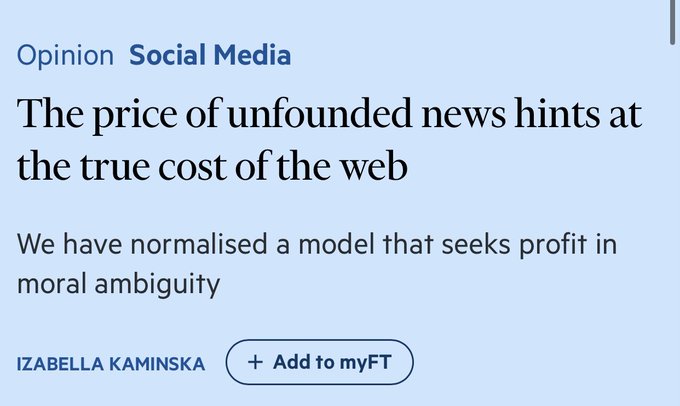 As I noted in the oped: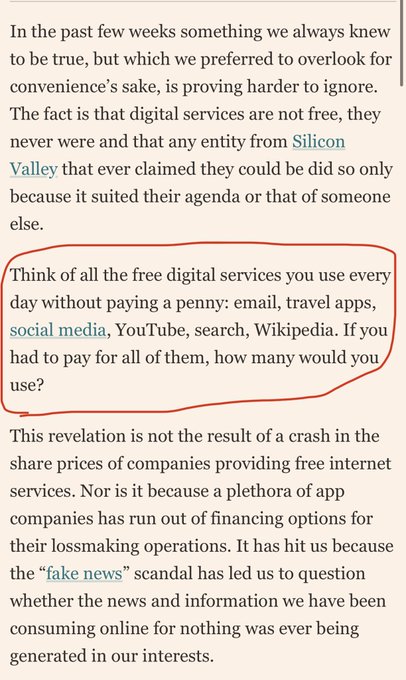 I then argued the two-sided funding ambiguity was helping to destabilise the info system: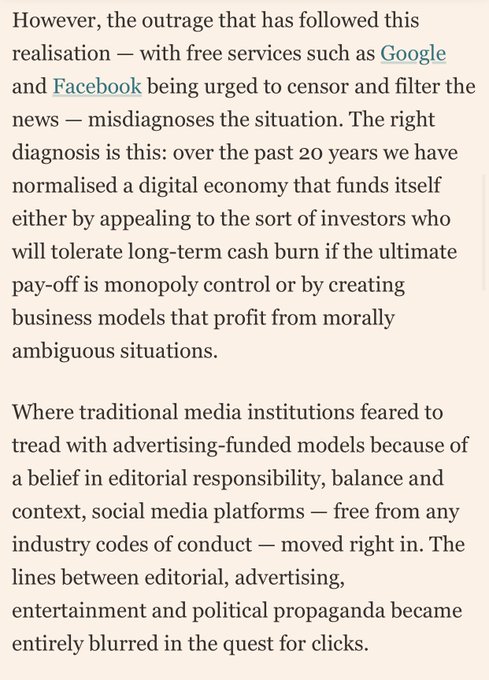 I then suggested that these errors were very similar to those cultivated by the old Soviet Gosplan system: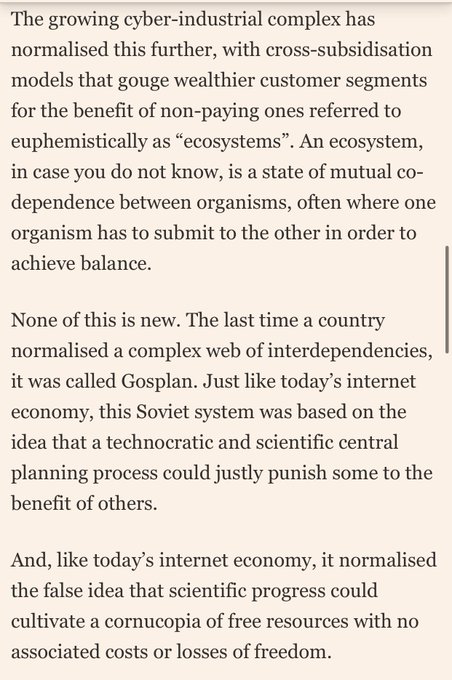 So what does that mean for where we are?
I think we are at a similar point with these private sector gosplan systems where the Soviet Union was in 1985: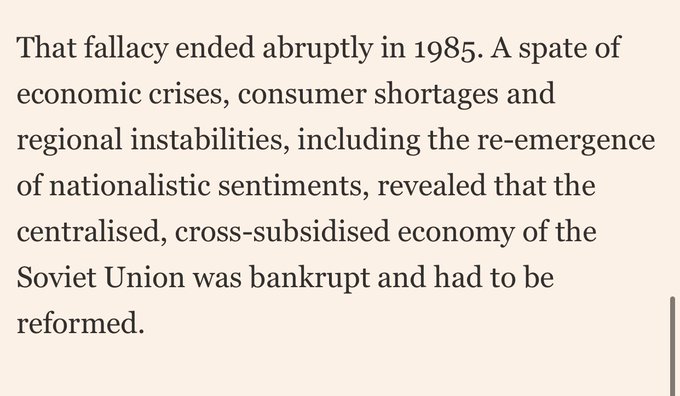 Elon is effectively bringing perestroika to Twitter in a hope to rescue the system.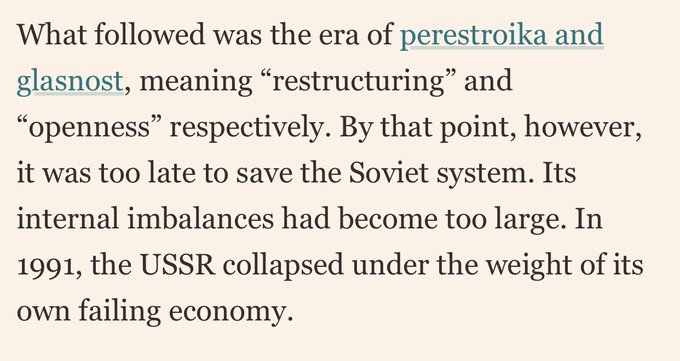 But the backlash he is likely to face (and is already facing) in bringing pricing transparency is likely to echo that faced by the communist reformers in the 90s.
This is especially the case if too much repressed reality is unleashed too quickly.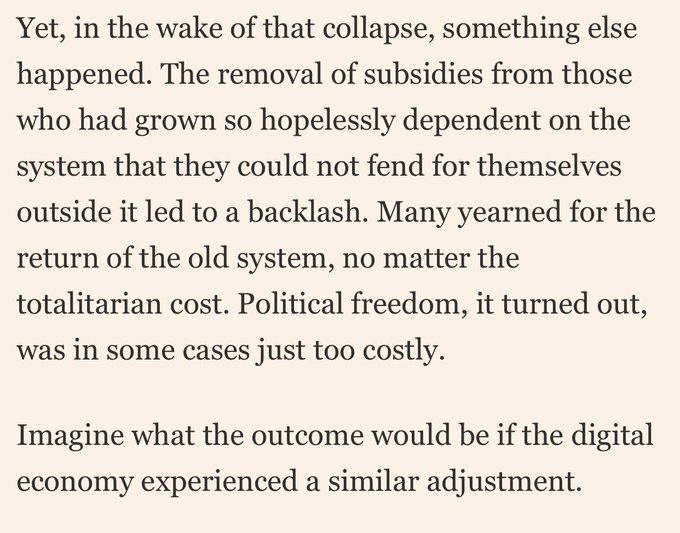 But if you think it's just Twitter facing these headwinds you would be wrong.
Twitter is just the canary in the coal mine.
The below is indicative of how extreme the cross-subsidiation got in terms of the trade offs between free stuff in exchange of Democratic disempowerment.
Ben Hunt@EpsilonTheory
100% of Meta's $96 billion in stock buybacks went to sterilize new shares issued to employees. 90% of Google's $156 billion in stock buybacks went to sterilize new shares issued to employees. None of this was 'returned to shareholders'.

And here are three important charts telling a similar story at Amazon via https://the-blindspot.com/in-the-blind-spot-robotaxis-amazon-boe/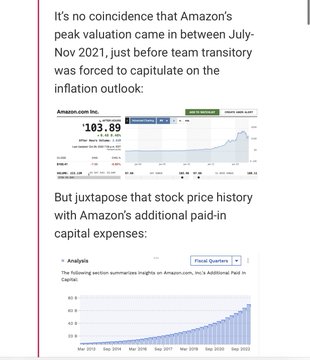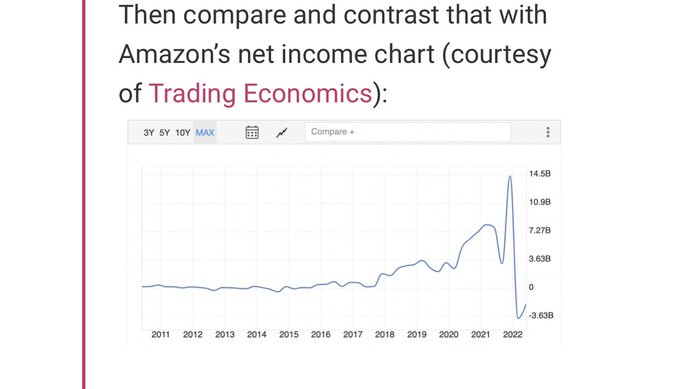 What do I mean by this?
Well, these free or below-cost models didn't just rely on cross subsidiation from advertising (normalised mass market manipulation both political and commercial), they relied on investors who benefited from keeping the digital nomenklatura in power.

Suspect most of these companies will have to totally restructure their model to survive a supply side inflation crunch in the context of information liberalisation.
This will make a lot of previously free stuff extremely expensive.

If we can't weather the storm, however, we risk going down a path where we knowingly give up on democracy and autonomy in favour of the protection of strong man systems that continue to give us free stuff providing we never disagree with them.

On that note please consider taking out a Blind Spot subscription to keep this specific journalist independent and free. :)
Subscriptions - The Blind Spot To know the detail of what is offered for each subscription...
---
💡
We publish daily doses of decentralization to over 3900 regular visitors, and boost out on
Mastodon
,
Twitter
,
Telegram
, Tribel and
Element
(Matrix) to over 4200 daily followers and growing! Please like & share our output. We rely on you for content, so please
write
for us. We welcome sponsorship and
donations
to help us continue our work - all major cryptos accepted or maybe buy us a coffee. Contact us at blog@decentralize.today - many thanks for all donations received, much appreciated.