TWEETSTORM is an occasional feature on decentralize.today where we share threads , mostly from Twitter, that we think deserve a wider audience, some are informative, some educational, some amusing and others yet are controversial...we dig these out for you so you don't have to!
In a week where we have had to deal with two major events in crypto space plus the impact of US elections, it would have understanding if we had all missed the consequence of this legal case in the USA.
BREAKING: Federal district court rules LBRY's pre-mine and ICO was an unregistered securities offering.
Notably, the court rejected LBRY's "utility token" argument and its "lack of fair notice" arguments. Case has big implications for Ripple, Eth, and others
LBRY engaged in the now classic "Initial Coin Offering" or "pre-mine"

For years (at least since the 2017 DAO Report), the SEC has warned this type of offering is a potential investment contract under the Howey test.
But lawyers in this space have been pushing for an interpretation of the law that allows a token's "utility" to overcome this
The utility token argument has always been rickety (see Telegram "Gram" settlement and Preliminary Injunction order, and others).
Blockchain projects have historically used token sales to fund the development team and then search for utility
Courts look to the economic realities underlying the transactions, not the formulaic legalese the lawyers tell these projects to incorporate

And the economic realities for LBRY showed the team conducted aa large-scale premine, reserving 40% of the tokens for themselves, and proceeded to treat these tokens an awful lot like investments in LBRY for those who purchased them
And the court viewed "sell now, build utility later" (tactics common to so many blockchain projects and ICOs) not as evidence that the token evaded securities laws, but that it fits squarely within them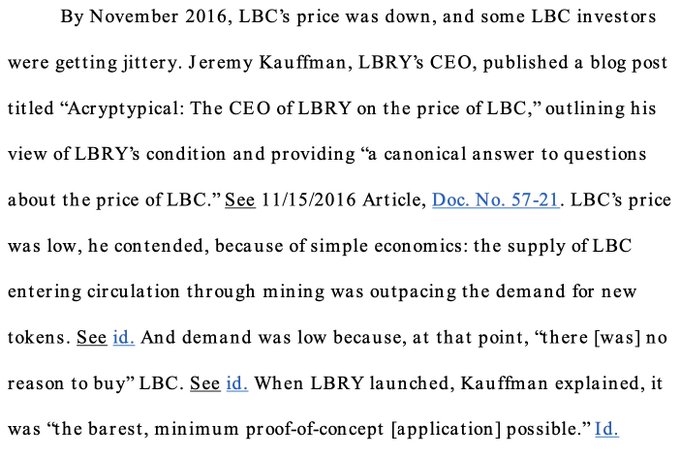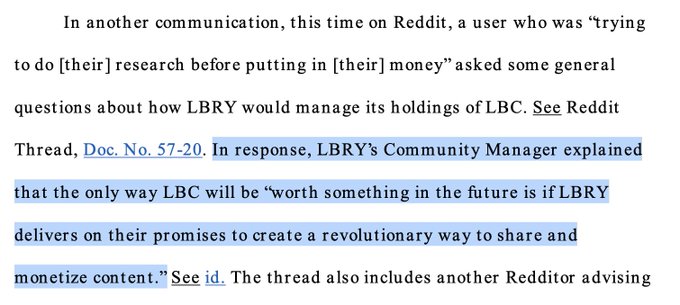 In the end, the token pre-mine and the retention of large sums over the overall planned supply by LBRY undermined any purported utility of the token.
The sale was an unregistered securities offering.
This has implications for Ripple's ongoing lawsuit w/ the SEC and others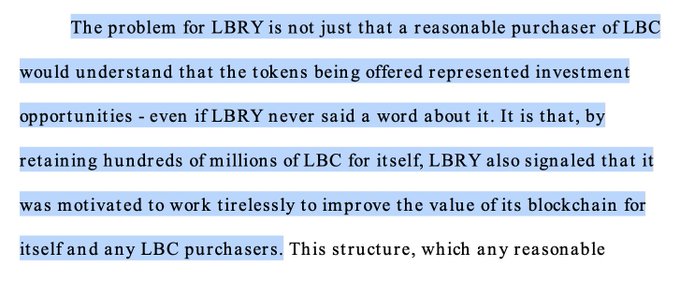 So we now have a federal district court at summary judgment (as opposed to the preliminary injunction phase, like Telegram) essentially saying the "utility token" argument does not carry the day and that the pre-sale/expectation of profit of initial investors is what matters.
See the Court's response to the argument re: "consumptive use":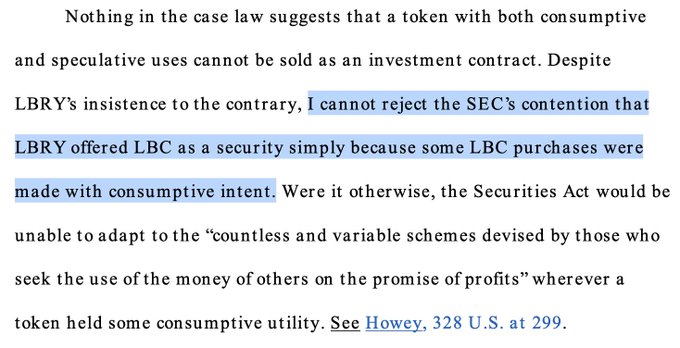 The district court also brushed aside the "fair notice" argument, which is another one crypto lawyers have been pushing recently (this argument basically states  that the SEC has been so unclear in its direction that they cannot now pursue enforcement against crypto tokens).
While this is just one district court ruling and is not binding on any other courts (yet), this is undoubtedly a big win for the SEC.
And it's the biggest hit in my mind to the ICO/"utility token" and pre-mine model, which was used by countless cryptos over the last decade
Want more info on this topic and why Bitcoin remains the only clearcut non-security in the space? I recently wrote a convenient--and well researched, if I do say so myself--paper (available for download in PDF here)
https://jacoutotonlaw.com/2022/11/securities-cryptocurrency-analysis-bitcoin/

However, not everyone was being so generous...
---
💡
We publish daily doses of decentralization to over 3900 regular visitors, and boost out on
Mastodon
,
Twitter
,
Telegram
, Tribel and
Element
(Matrix) to over 4200 daily followers and growing! Please like & share our output. We rely on you for content, so please
write
for us. We welcome sponsorship and
donations
to help us continue our work - all major cryptos accepted or maybe buy us a coffee. Contact us at blog@decentralize.today - many thanks for all donations received, much appreciated.