In a Daily Dose earlier this week, reference was made to the BAYC, which, frankly some of us had never heard about..so it was with some relief that we came across this thread that fills in all the blanks...NOT!!
Bored Apes Yacht club was released around this time last year. I spent the afternoon digging around on-chain data to understand what the earliest minters did, how much they made and how they held or sold apecoin when it launched. Here are some observations from @nansen_ai
1. In case you think the NFT was a smash hit the moment it launched - it wasn't. Until a week since launch there were only 220 wallets even holding them. Took till June to hit 4000 wallets around the release of the NFT. As of today that's at 6000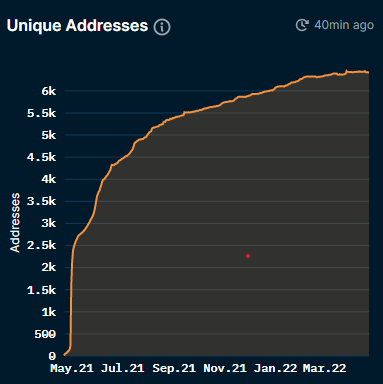 2. It took a whole two months for the asset to trend towards $10,000. Today it trades at $400k as a floor price (the bare minimum you pay to own one). Volume for the asset has concentrated around September (going mainstream) and April (apecoin release) source - parsec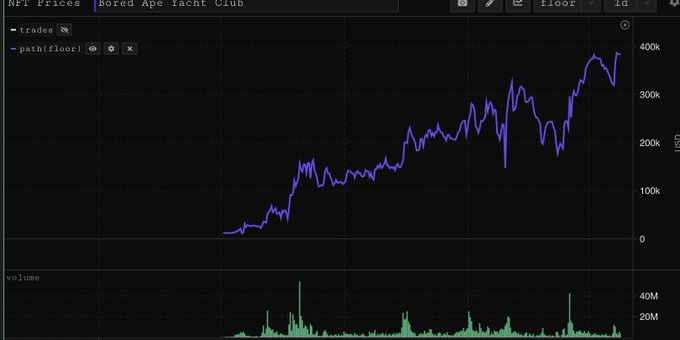 3. I wrote an article explaining the psychological and economic aspects of why these NFTs were trending around then. Unfortunately, I didn't go buy a bunch instead of larping on my substack. (pls sign up for it so i can feel better)
decentralised.co Lessons on Cult Building From Bored Apes On how BAYC is building a subculture worth billions.
4. One way to check how concentrated an asset is to see how what % of it holds only one NFT. This number trending downwards is a sign that it is gradually distributing to more people (through purchases). 80% of BAYC's are held in wallets that hold only 1 NFT.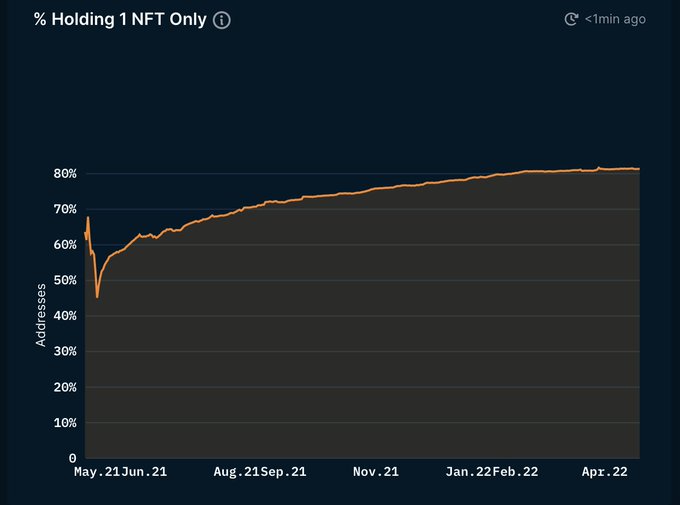 5. In comparison - the other cryptopunks has about 4000 wallets with 70% of NFTs being held in a single wallet. a newer collection like moonbirds has more wallets (6430+) but more concentration (75% wallets hold only 1 NFT)
6. A different way to gauge hodl-behavior of an asset is to see the number of users that have traded out of it. Of the 10,000 apes in existence, some 5518 apes are held in wallets that have never traded out of their positions sidenote: Nansen should show this metric in %..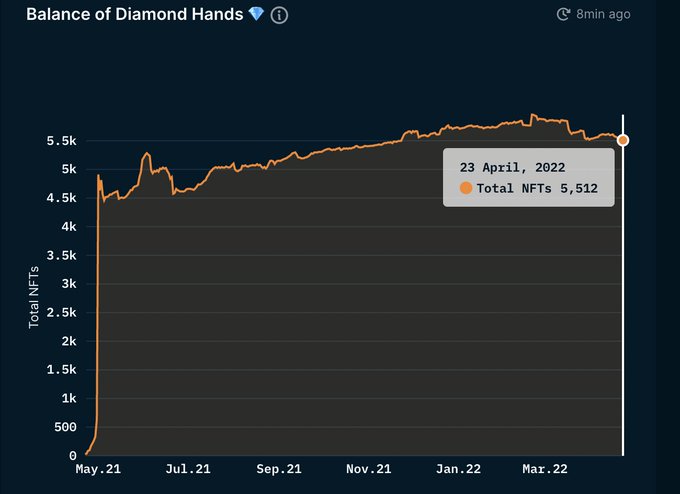 7. You can see a very simple power law at play if you check the number of NFTs held by users that never sold a single NFT so far.  The highest number of NFTs held in a wallet that's not sold out yet has 72+ NFTs in it.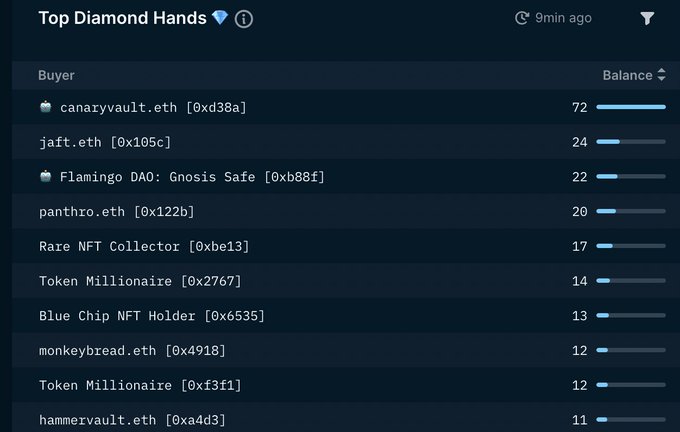 8. That largest wallet is held by http://Canary.art - an NFT investment collective. Interestingly, the ask price for their whole collection is 20,000 ETH. You can see a partial breakdown of their portfolio below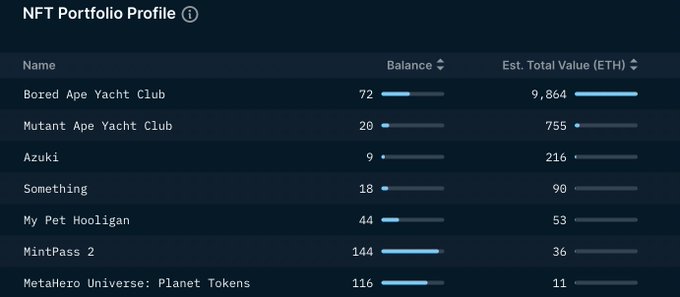 9. What I found interesting is that inspite of never having sold the NFT itself - they moved some $13 million worth of Ape-coins within 1 hour of claiming to Binance. Can't claim they sold it - but just an observation.

10. If you dig around and check who made the most profit in % terms on the asset you will find a common occurrence. But before we go there.- here's how much the top wallets made in % gains on BAYC (alone)

11. Some quick observations here 1. Most of these wallets sold only 1 NFT 2. They made around 100 ETH or less 3. Spent sub 0.01 NFT Safe to assume they minted it? Well.. No. I did some digging around it seems they got it because someone mis-sold it.
12. I am entirely speculating here but consider the second wallet in the list. It made about a 302x profit - spending 0.03 eth (inc fees) to make 105 eth in return. that wallet didn't receive it at mint. it received it last december at a cost of 0.001 eth
13. The third wallet in the list had a similar pattern - received NFT for 0.01 ETH and sold for 99 ETH on the same day. Seems like users getting hacked / selling accidentally to wrong bids
14. Wallet #2 and #3 had users simply doing 3-4 transactions and leaving it. The 4th one was interesting because it had some 250 transactions but its the same pattern. NFT acquired for 0.01 some four months back and sold at market-price
15. Anyway, idk what exactly happened here. Could be 1. Users moving between own wallets. Seems like the case for the #1 wallet. 2. Users selling at loss for tax reasons 3. As we have seen often - just hacks/selling to wrong bids.
16. Obviously a percentage breakdown alone is not good enough so I looked at who made the most in ETH terms. This is what the figures are for the top 5 wallet. @pranksy purchased some 1251 NFTs to make a 400% RoI of ±2134 ETH
17. I was intrigued by the third wallet there - and checked how he made his 350x return. The guy minted some 65 BAYCs, then when the Kennel club came along - he minted those too. He had to sell some NFTs at sub 5 ETH but held on and managed to sell around 5-10 NFTs at 50+ ETH
18. I was curious to see if he held all his Apecoins - and turns out he slowly, gradually managed to sell them all. Some 119,000 ape tokens worth ±1.7mil+
19. It may look like he's an idiot for selling all his apes then his tokens too early - but 1. In June - nobody thought these NFTs would be worth so much 2. He minted multiple derivatives (and profited off those) 3. Was one of the largest minters at launch
20. I could go down the rabbit hole of checking each of these wallets - but let's come back to seeing what the largest balance wallets have been to. Of the top 5 wallets, two are clear NFT holding collectives/DAO-like. We will focus on Dingaling
21. Dingaling has so far received 127 Bored apes of which he still holds 112.  His BAYC alone is worth some 15,500 ETH going by floor price. The guy seems to take an interest in Azuki and Terraforms along with sandbox land
22. What i found interesting is that the wallet has received a bunch of BAYCs from ApeDAO (a collective holding bayc nfts ) - I assume the person partook in an auction and acquired them. Governance proposal for this liquidation can be seen here- https://snapshot.org/#/togetherstrong.eth/proposal/0x6cd4b56dc3e4a52f972000014587e7847e006506b139900e055ae1479c92ce29
23. I am not quite sure who owns that wallet - but if you want to dig around, here's a list of 13,000 NFTs worth ±72.17 million tracked by Dapp Radar https://dappradar.com/hub/wallet/eth/0x54be3a794282c030b15e43ae2bb182e14c409c5e/nfts
24. As apecoin went live - the person received a total of 1.43 million Ape tokens. Of those, about 500k went straight to FTX. Some of it has gone to LP"ing on Uniswap. Smart trade - whoever this was. The wallet still holds some 10mil worth of tokens
25. There are some ±40,000 Apecoin holders that publicly hold the token in their wallet. A large part of it was fuelled by the airdrop (6k wallets). The token may be being perceived as a way  to have exposure to BAYC without spending $500k
26. If you sort up by first in on Nansen you can see if the earliest minters still have a bored ape in their balance. Of the first 20, only 1 still had an NFT. In the first 60 - its about 5.
27. In other words, many people managed to be early .. and sold early without realising what they got into. I wonder what's worse - never buying it in market or minting it and selling early.
28. I have barely looked at how users held on to their MAYC, Kennels and Apecoins in this thread. A year on - idk if BAYC is the beanie equivalent or Spotify of our era but its fairly clear that it has upended how we think of NFTs.
So there you have it!
😃
We publish a daily dose of decentralization here every day (UTC+8), for additional daily updates follow us on Mastodon, Twitter, Telegram or Element (Matrix). Please like & share all our output. We rely on User-Generated Content so why not write for us and since we try to avoid ads and sponsorship, why not donate to help us continue our work - all major cryptos accepted. You can contact us at decentralize.today and at blog@decentralize.today