TWEETSTORM is an occasional feature on decentralize.today where we share threads , mostly from Twitter, that we think deserve a wider audience, some are informative, some educational, some amusing and others yet are controversial...we dig these out for you so you don't have to!
Sooraj Sathyanarayanan@iAnonymous3000
Why you should avoid using Chinese phones and apps like Tiktok asap? #deletetiktok #cybersecurity #privacy #securityawareness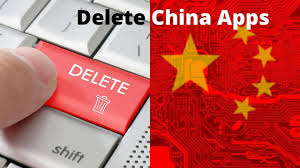 Sooraj Sathyanarayanan@iAnonymous3000
If you care about your data privacy, it's high time we should take this issue seriously and avoid buying Chinese phones like Xiaomi, Realme, Oppo, OnePlus, Vivo, Huawei, etc.
en.wikipedia.org List of mobile phone brands by country - Wikipedia
Sooraj Sathyanarayanan@iAnonymous3000
These are spying devices used for data collection by the Chinese govt. There are no proper privacy laws to protect user data. It's basically a surveillance state. Citizens don't have many rights to stand up against the authoritarian regime.
aspi.org.au Engineering global consent: The Chinese Communist Party's data-driven power expansion The Chinese party-state engages in data collection on a massive scale as a means of generating information to enhance state security—and, crucially, the political security of the Chinese Communist.
Sooraj Sathyanarayanan@iAnonymous3000
There are also concerns about censorship.
China's Press Freedom Index 2022 -  175/180
Also, read about Great Firewall - https://en.wikipedia.org/wiki/Great_Firewall
reuters.com Lithuania says throw away Chinese phones due to censorship concerns Lithuania's Defense Ministry recommended that consumers avoid buying Chinese mobile phones and advised people to throw away the ones they have now after a government report found the devices had.
Sooraj Sathyanarayanan@iAnonymous3000
US user data had been repeatedly accessed by TikTok employees in China based on leaked audio from internal company meetings.
Great explanation by @NickAEsp
See youtube.com Delete TikTok Now I'm calling on both Apple and Google to remove TikTok ASAP and open an investigation.
Sooraj Sathyanarayanan@iAnonymous3000
@naomibrockwell - one of the prominent #privacy content creators has also advised us not to use Tiktok. App
Privacy details of Tiktok from the Apple app store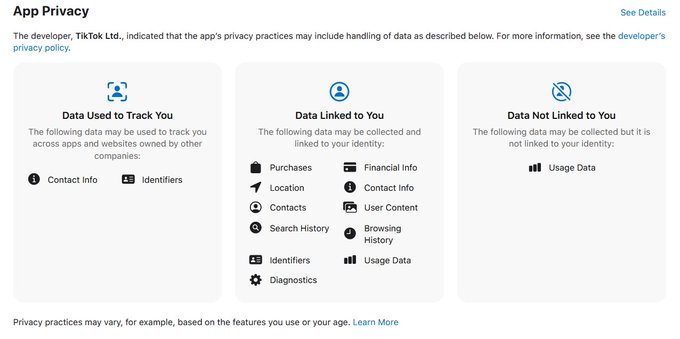 Sooraj Sathyanarayanan@iAnonymous3000
India realized that these Chinese apps have become a privacy nightmare and must protect its citizens from potential threats.
This became a National Security issue. This resulted in the ban of 250+ apps.
xda-developers.com Here's a list of all the Chinese apps banned in India Here's a list of all the Chinese apps banned in India by the Ministry of Electronics and Information Technology. Check it out!
Related article
💡
We publish daily doses of decentralization news every day and update on
Mastodon
,
Twitter
,
Telegram
and
Element
(Matrix). Please like & share our output. We rely on you for content, so why not
write
for us. We welcome sponsorship and
donations
to help us continue our work - all major cryptos accepted or buy us a coffee. Contact us at blog@decentralize.today - many thanks for all donations received, much appreciated.